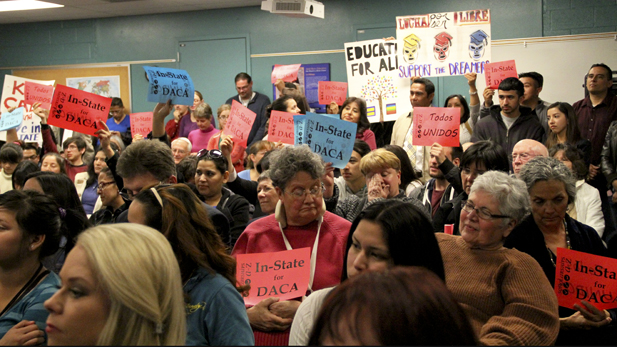 PHOTO: Mariana Dale, AZPM
Hundreds supported in-state tuition for students who receive Deferred Action for Childhood Arrival status.
Listen:
The Arizona Attorney General's Office is questioning Pima Community College over its decision to give in-state tuition to those who receive Deferred Action for Childhood Arrivals.
"You should know that Arizona law prohibits community colleges from classifying those who are 'not a citizen or legal resident of the United States who are without lawful immigration status' as in-state students for tuition purposes," Assistant Attorney General Leslie Kyman Cooper wrote in a letter to PCC.
Last February, the college's governing board voted 4-1 to accept the temporary work permit as proof of legal status in the U.S. This semester 155 students enrolled in Pima are recipients of DACA, and were given an I-766 Employment Authorization Document, according to college officials.
"Pima College understands that participation in DACA does not confer lawful immigration status, however proof of lawful immigration status is not required under federal law or state law for a student to qualify for in-state tuition," Jeffrey Silvyn, general counsel for the college wrote in a response letter to the state dated Nov. 1.
In the letter, Silvyn explained that the college is using a state statute that requires poof of lawful presence in the U.S. before receiving a public benefit like in-state tuition, not lawful status.
"The statue specifies acceptable forms of proof, including a United States Citizenship and Immigration Services employment authorization document, I-1766, that DACA participants may receive," he wrote.
Eligibility requirements for deferred action status include coming to the country illegally or living in the country with expired permits before June 15.
Applicants must also have entered the country before they were 16, be between 15 and 31 years old, have lived in the U.S. for the past five years, be currently enrolled or have graduated from high school, served in the armed forces and have no criminal record.
Maricopa County Community Colleges are also allowing DACA students to qualify for in-state tuition.
Read
Letter from the Arizona Attorney General's Office: View at Google Docs | Download File