(VIDEO: AZPM)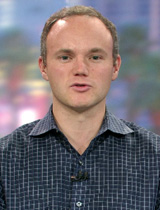 Dustin Gardiner, City Hall reporter for the Arizona Republic.
Tucson and Phoenix are holding city elections Tuesday, with residents choosing city council members. The outcome in Phoenix could mean a big power shift, while in Tucson two Republican candidates could potentially break an all-Democratic council.
A reporter from each city joined the elections talk for the Friday night broadcast of Arizona Week, discussing possible results of Election Day, as well as where each city stands on the political spectrum.
The nine-seat Phoenix City Council is split between solid liberals and firm conservatives, said Dustin Gardiner, city hall reporter for The Arizona Republic. The outcome of the District 4 race, which covers central Phoenix, would either give the council one more liberal vote or a swing vote.
"We are seeing more of (an) ideological alignment dealing with (Councilmember) Justin Johnson and candidate Laura Pastor," Gardiner said. "Justin is also a Democrat, but perceived as the most conservative of the two. He would be perhaps more independent, and shift from the liberal and conservative blocks, particularly in fiscal issues."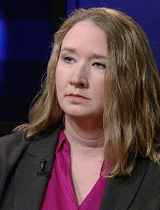 Sarah Garrecht Gassen, editorial writer at the Arizona Daily Star.
While in Tucson, the council is all Democratic, so the Republican challengers for Wards 3 and 5 - Ben Buehler-Garcia and Mike Polak II - could break that clique.
However, Sarah Garrecht Gassen, editorial writer for the Arizona Daily Star, said the council likely will remain as is, with six Democrats.
"I think that is what is probably going to happen given the make-ups of the wards," she said. "It's a mail-in election, so that changes things a little bit, but my expectation is that it (the council) will probably remain the council that we have right now."
Gassen and Gardiner agreed the issues that candidates have been bringing up the most are the economy and jobs in their respective cities. All candidates have promoted themselves with what they think is the best remedy for their city's recession.
"When we have a job situation, when people are unemployed ... of course that is something that bubbles up and comes to the (front)," Gassen said.