(VIDEO: AZPM )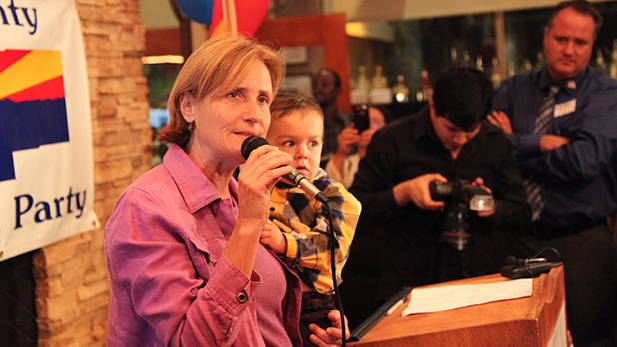 Tucson City Council member Karin Uhlich, holding her foster son Isaiah, at the Democratic Party gathering on election night, Nov. 5, 2013. (PHOTO: Andrea Kelly, AZPM)
Tucson's three Democratic City Council incumbents won easy re-election Tuesday.
Incumbents Karin Uhlich and Richard Fimbres defeated Republican challengers. Democrat Steve Kozachik, who switched from GOP registration early this year, was unopposed for his second term.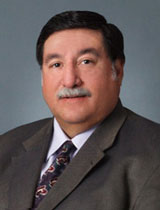 City Councilman Richard Fimbres, Democrat.
Uhlich won in Ward 3 with 34,708 votes, 58.4 percent, to capture her third four-year term. She defeated Republican challenger Ben Buehler-Garcia for the second time. Buehler-Garcia, who lost to uhlich in 2009 by 175 votes, got 24,589 this time.
"The campaign was really about recognizing that Tucson can celebrate and be proud of the progress that we've made and the path that we're on," Uhlich said, "and this is just such an affirmation that we live in a great city, and we want to embrace the future with a positive outlook that we have every right to hold on to."
Asked why her margin of victory was so much bigger this time, Uhlich said, "I think the times have changed, clearly, and I think I ran on my record and people have seen the efforts that have been made in the last four years to make sure we navigate this downturn to the benefit to as many people as possible."
Fimbres won a second term with 35,464 votes, or 60 percent, over GOP newcomer Mike Polak II, a computer-science and aerospace engineer who moved to Tucson four years ago. Polak received 23,206 votes.
"I think it sends a strong message on the work that we've been doing in the city of Tucson for the long term sustainability," Fimbres said. "My goal was to get people back to work, get them back to work and to start generating sales taxes, which is what the city of Tucson lives off of."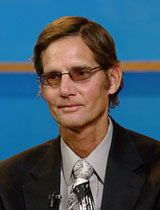 City Councilman Steve Kozachik, Democrat.
Kozachik said he was elated about the Democratic wins. He changed from the Republican Party to the Democratic Party at the outset of this election cycle, and ran unopposed for reelection.
"How about those margins of victory?" he said. "This is going to be one kick ass council. We are going to fight back against the Legislature."
Kozachik said his party change was the right move.
"I feel like Dorothy; ought to click my heels and say, 'There is no place like home.'"
Democratic Mayor Jonathan Rothschild said he was content with the results, which mean he keeps an all-Democratic council.
"I'm very happy with the team I have, and I want to make it clear, we do not all agree all the time by any means, but we are able to have discussions they are constructive," he said. "We try to help each other get to the right results."
Tucson voters also approved two propositions, one to raise the city's budget limit by $50 million, and the other for the 10-year city general plan.
Proposition 401, which passed with 62.1 percent of the vote, means the council can increase spending by that amount if revenues were available.
Proposition 402, passed with 65.8 percent. Plan Tucson, the city's general plan for the next 10 years, was approved as required under state law.