Tuesday on the The Diane Rehm Show
In this Dec. 5, 2012 photo, the sun sets behind an oil pump jack and the Rocky Mountains near Fredrick, Colo. (AP Photo/Ed Andrieski)
Environmental Outlook
Forty years ago, the Arab embargo began a long era of U.S. dependence on foreign oil. And as recently as 2007, experts feared America was running out of natural gas. But the recent fracking boom has made the U.S. the world's largest energy producer. And in December, North Dakota, Ohio and Pennsylvania together produced 1.5 million barrels of oil a day -- more than Iran exported. But as the U.S. moves toward energy independence, environmental advocates warn of dangerous trade-offs on air and water quality, and on climate change. For this month's Environmental Outlook: Diane and a panel of experts discuss the changing global energy picture.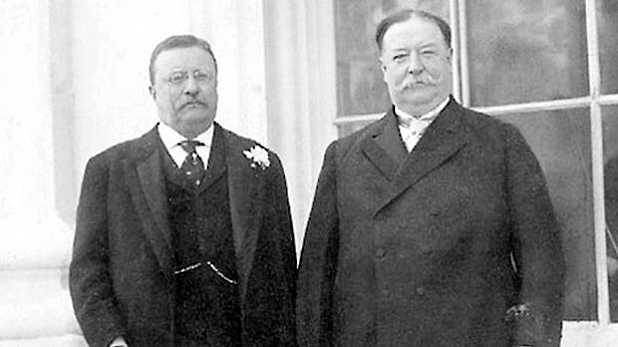 President Theodore Roosevelt standing with William Howard Taft prior to Taft's inauguration in 1909. Wikimedia Commons
Doris Kearns Goodwin: "The Bully Pulpit: Theodore Roosevelt, William Howard Taft, And The Golden Age Of Journalism"
The nation's 26th president was both a leader of the Republican Party and a Progressive. A new book by the Pulitzer Prize-winning author Doris Kearns Goodwin explores Theodore Roosevelt's effective use of the press and the presidency to push his agenda. He called it his "bully pulpit." He employed presidential power and public opinion to prod a conservative Congress into action. Under his leadership, Congress passed laws to break up monopolies, protect consumers and create national parks. Diane and her Goodwin discuss how Teddy Roosevelt got things done and his heartbreaking rift with the next president, William Howard Taft.
Weekday mornings from 9-11 a.m. on NPR 89.1 FM/1550 AM