Listen:
It is not too late for Congress to pass an immigration reform bill in 2013, according to immigration experts from across the country.
About 100 people gathered Monday night at the auditorium of the Arizona School for the Deaf and Blind for an immigration reform symposium to discuss what a perfect immigration might look like.
Earlier this year an immigration reform bill passed the U.S. Senate, but has not made progress in the Republican-lead House of Representatives.
"We think we're going to be able to keep picking of one republican at a time until we are close to 218 which is the number of votes needed to pass something," said Marshall Fitz, director of immigration policy for the Center for American Progress.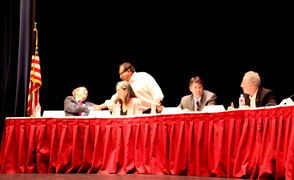 PHOTO: Fernanda Echavarri, AZPM
Part of the panel at Tucson's Immigration Symposium
Bisbee Mayor Adriana Badal and Douglas Mayor Danny Ortega were part of the panel that also featured the director of American Immigration Council, Benjamin Johnson, and U.S. Reps. Raul Grijalva and Ron Barber.
As the debate continues in Washington D.C., Badal said many issues are left out.
"Border communities are so much more than immigration, legal or illegal, documented or undocumented," she said. "We are so much more in this region and that hasn't been part of the discussion."
Badal asked if border mayors could help bring both parties together and provide a different voice into the debate.
"That is something that should be a no-brainer, people should just think 'OK, we're dealing with border issues, why don't we bring some of the border mayors in and hear what they have to say?" Fitz said. "Unfortunately there isn't that type of rational thinking in Washington D.C."
Lawmakers should also visit the border, Fitz said, and talk to law enforcement but also community members and business owners in border towns.