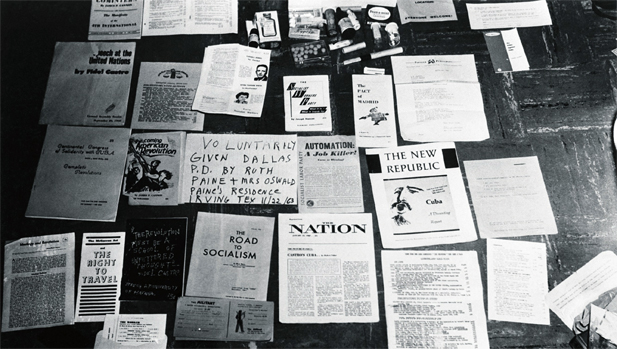 Photographs and documents, confiscated by the FBI as evidence, from houses where Lee Harvey Oswald was living at the time of the assassination of President John F. Kennedy. (PHOTO: PBS)
Fifty years later, what can science tell us about the Kennedy assassination — and the investigations that followed? The 1963 murder, in broad daylight in front of hundreds of witnesses, was a homicide investigator's best-case scenario. Yet somehow the JFK assassination became a forensic nightmare, plagued by mishandled evidence, a controversial autopsy and, incredibly, a prime suspect murdered while in police custody before he could be tried — all of it captured on film. Now, NOVA follows a group of experts trying to unravel the lingering mysteries of the assassination: private investigator Josiah Thompson; gunshot wound authority Larry Sturdivan; laser scanning specialist Tony Grissim; medical examiner and forensic neuropathologist Peter Cummings; and firearms experts Lucien and Mike Haag.
Nova: Cold Case JFK, Wednesday at 9 p.m. on PBS 6.
Following Nova: Cold Case
Wednesday at 10 p.m., Secrets of the Dead: "JFK: One PM Central Standard Time" tells the story of two men: one, the president of the United States — shot in Dallas and rushed to Parkland hospital, his fate unknown — the other, respected CBS anchor Walter Cronkite, knowing he had to get the story right amid the uncertainties of that tragic day.
Wednesday at 11 p.m., "Lyndon B. Johnson: Succeeding Kennedy" presents a comprehensive look at the life and legacy of the 36th president. Through interviews with experts and witnesses, and a wealth of iconic and rarely seen archival material, the program explores the policies of the straight-talking Texan unexpectedly thrust into the presidency following John F. Kennedy's assassination.