Listen:
The new director of the Regional Transportation Authority and the Pima Association of Governments will pick up the ongoing budget challenges his predecessors faced.
Farhad Moghimi started as director of both agencies Oct. 14, after Cherie Campbell served 10 months as an interim director. The previous director, Gary Hayes, left the job in December 2012, citing health reasons.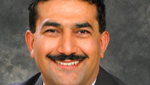 Farhad Moghimi
The RTA is tasked with overseeing a 20-year and $2-billion transportation plan for Pima County. It is funded with a half-cent county sales tax.
PAG is a regional government planning agency, and distributes federal funding for the region. Staff are going to have to work with congressional representatives to ensure they know what Pima County's priorities are, he said.
"We hope that we can be at the table and have that conversation and make sure that some of the regional projects that are of a higher importance and priority both for the nation and for the state make it into the list of projects that could get funding," he said.
The recession and federal government decisions mean some changes in funding for the remainder of the RTA plan will be required, he said.
"The bids (on construction projects) were much more competitive so we saw bids on construction projects that were about 20 percent lower than we anticipated, so there was some savings but at the same time the revenue wasn't coming in as high as we projected initially," Moghimi said.
"We're going to have to go back and look at the actual revenue projections and how much we collected to date versus how much we spent on projects and look at projections that would actually result in some savings as well," Moghimi said.
But that job isn't just for employees of PAG and RTA, he said he wants public input, too.
"We're going to have to work together as a community and look at projects and identify a way to make up any potential differences in the revenue and the expenditures," he said.