(VIDEO: AZPM)
As the Arizona population grows, so does the demand for water. Many assure the time will come, if it hasn't already, when the existing water supplies, such as the Colorado River, will not suffice. But the issues stand in where and how the state will find more of these supplies.
This week, Arizona State University's Morrison Institute for Public Policy hosted a water forum, which sparked debate of short-term and long-term solutions for the crisis in Friday's broadcast of Arizona Week.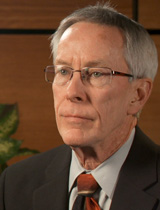 Robert Glennon, UA law professor and water law expert. (PHOTO: AZPM Staff)
Conservation makes up a big part of the solution, said Robert Glennon, University of Arizona law professor. But former U.S. Sen. Jon Kyl, who was part of the forum at Morrison, argued we cannot "conserve our way out" of the problem.
"That helps, but it is not the silver bullet," Kyl said. "Augmentation of our water supply ... (via) cloud seeding ... those kinds of things. (But) that is down the road. We have to figure out now, today, how we will be able to afford and develop the political support for those solutions so they are ready when the time comes."
Glennon said the Bureau of Reclamation issued a study last year, which argued that conservation is one of the best ways going forward.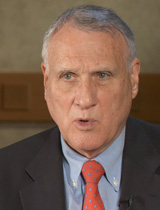 Former U.S. Sen. Jon Kyl. (PHOTO: AZPM Staff)
He proposed cities should invest in helping farmers find ways to help conserve. Changes in their farming, such as using drip irrigation and center-pivot irrigation rather than flood irrigation, could cut use.
"Farmers use about 70 percent of the water, so if we could get (them) from 70 to 60, that would almost double the supply for cities," Glennon said.
They will use less water, have the same products, but the cities and industries will get that extra water, he explained.
Glennon said the state is already in a crisis, while Kyl said Arizona is better off than other places, and the solutions being thrown around are to prevent a crisis.
"This isn't a situation where Arizona faces a crisis," Kyl said. "What we have to do is follow the same historic model that Arizonans did in the past: anticipate, way out into the future, a problem, get together and solve (it), so that it is never a crisis. By working at it early on ... I think we can avoid that."
Legalities need attention, including water adjudication - which defines who has what rights to the surface water in the state - and the U.S. Environmental Protection Agency and Navajo Generating Station air pollution feud, which Kyl said could be long-term preventions to a water crisis.
"There are still choices and paths to select between and among to keep the crisis from becoming a catastrophe," Glennon said. "And that is going to require political will and more courage."