Listen:
A company visited a Northeast Side Rural/Metro fire station today to demonstrate new material that could make fire shelters better for firefighters by withstanding more heat.
SunSeeker fire blankets took its design ideas from technology NASA used on space shuttles and other objects that must withstand heat when reentering the Earth's atmosphere from space.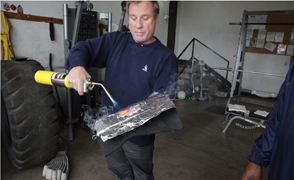 PHOTO: Andrea Kelly, AZPM
The material now in use for fire shelters burns and disintegrates with the 3,000-degree heat of a blow torch. It also lets off smoke and fumes.
The fire shelters in use now, and the ones used by the 19 firefighters who died in the Yarnell Hill fire earlier this year, can withstand temperatures up to 300 degrees, said Jim Moseley, the CEO of SunSeeker.
When a blow torch flame is applied a few inches away from the foil-like material, it melts away in about a minute. Blow torch flames can get as hot as 3,000 degrees, Moseley said, so they are much hotter than a wildfire. Those shelters also allow fumes and heat into the shelter, which can cause complications for a firefighter using one as a life-saving emergency measure.
The new shelter material doesn't let heat through it, which helps extend the amount of time a firefighter can be inside a shelter as flames pass by.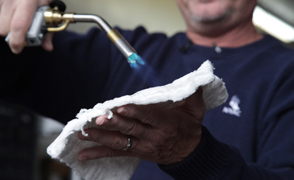 PHOTO: Andrea Kelly, AZPM
The material that could be used for new fire shelters insulates enough that Jim Moseley, CEO of the company that makes it, can hold the cotton-like material with a bare hand on the bottom while using a blow torch on the other surface.
The new material Moseley developed can stand up to the blow torch flame without singing, burning or creating fumes. He created a quilted material, a cotton-like material and a thinner black material.
The company is also developing a spray that could be applied to material, such as a firefighter's clothing, or the roof of a home, to increase the temperature at which it becomes flammable.
The material could be wrapped around beams of a building such as the World Trade Center to extend the time people have to evacuate in the case of a fire.
Before a fire department could purchase the material, it must be tested and approved by the federal government.
SunSeeker is raising money to make a prototype fire shelter so it can begin testing, Moseley said.
PHOTO: Andrea Kelly, AZPM
The new fire shelter material holds up to temperatures hot enough to melt a penny to liquid copper.