Listen:
Wild turkeys are making a comeback in Southern Arizona.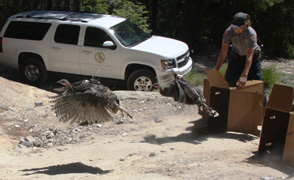 PHOTO: Arizona Game and Fish Department
After disappearing from the area in the late 1920s, the Arizona Game and Fish Department now estimates there are about 1,000 Gould's turkeys in the region, after being reintroduced to southeastern Arizona in the '80s.
Mark Hart, public information officer at Game and Fish in Tucson, said the agency removed turkeys from Mexico and released them into the Huachuca Mountains. The Gould's have done well, and are now found in other Sky Island ranges, including the Santa Rita Mountains, he said.
Gould's are the largest of the wild turkey species, with some of them weighing as much as 25 pounds or more, and sporting long beards, in some cases 14 inches long, Hart explained.
Last year, Game and Fish did the first reintroduction of the wild turkey species into the Rincon Mountains, located east of Tucson, Hart said.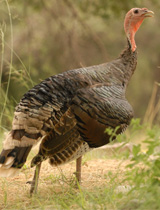 PHOTO: Arizona Game and Fish Department
"And they're just about in all the Sky Island ranges at this point except the Dragoons," he said. "It's interesting with the turkeys, no matter how high up we put them sometimes they'll find their ways into populated areas. They're something of an item on Green Valley golf courses. People enjoy having them around."

This past summer, Gould's from the Santa Rita population made it all the way through residential areas to Davis-Monthan Air Force Base, Hart said.
"We had to do a quick capture and transport up to the top of Mt. Lemmon," he explained. "Hopefully, they'll stay put up there but they do move around a lot...even if you aren't on a mountain top you may see them on your golf course or in a backyard. And if you do and they're in harm's way call us. Please. We'll come and get them."
Hart said people are allowed to hunt the turkeys if they have a permit.
Arizona Game and Fish issues 50 tags a year for Gould's turkeys.