Story by Jake Feinberg

Listen:
Harvey Brooks is an electric bass player who came of age as a musician and a producer in New York in the early sixties.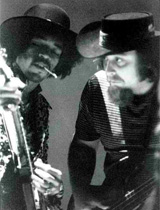 PHOTO: Courtesy of Harvey Brooks
Jimmy Hendrix and Harvey Brooks.
He played on Bob Dylan's Highway 61 album and is considered to be at the forefront of the folk, rock fusion period. While working at Cafe A-Go-Go he played with Jimi Hendrix and developed a deep relationship with him along with Michael Bloomfield and Al Cooper.
Harvey also played bass on Miles Davis' "Bitches Brew" album.
All of this was in addition to playing bass and producing for the band The Electric Flag.
From 1996 to 2008, Harvey and his wife Bonnie lived in Tucson.
He was instrumental in opening the music store at the now defunct 17th Street Market, and had a dynamic band.
To this day, Brooks still has a soft spot for the Old Pueblo in his heart.
He and his family have since relocated to Jerusalem.