Listen to the audio story by Giillian Drummond & Kayla Samoy:
Article excerpt written by Joan Calcagno for 3 Story Magazine
It may come as a surprise to anyone who knows anything about David Aguirre that he got his start as an air traffic controller in the Navy.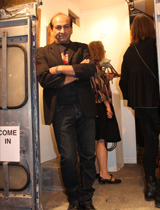 David Aguirre (PHOTO: Gillian Drummond)
This artist-turned-art-instigator, a man with his finger in so many pies in Tucson's arts scene that it's hard to keep track of him, is about as far from the military as you can imagine. But then again, military living can be pretty bare-bones, and that is certainly part of David's frugal lifestyle.
His first digs in Tucson were in the basement of the Steinfeld Warehouse, where he camped out on a dirt floor. Even today, he practically camps, living in a tiny space with no cooking facilities. And as David points out, air traffic control was not that different than the decades of constant activity necessary to survive as an artist and keep artist organizations and spaces afloat.
(PHOTO: Gillian Drummond)
"I'm still running traffic patterns above an airport, with all the surprises," he quipped when we sat down at Steinfeld Warehouse Community Arts Center to discuss, among other things, a new mobile art gallery, Planet Rabbit.
Aguirre has a long history with the warehouse.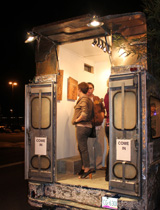 (PHOTO: Gillian Drummond)
He lived in the basement when he arrived here in 1987; he had a ceramic studio there in the early to mid-90s; and he's back as executive director of Dinnerware Artspace (everyone calls it Dinnerware), which now has its home base at the warehouse.
David learned a long time ago that the best way to get things done is to just do it - create something that people are in awe of, and do it with others. His philosophy is: when you see something that needs to be done, get the idea out there and see what materializes (or doesn't). He's clear that when you bring people together, you have to embrace the creative process, which he describes as "a true artist approach - not knowing the outcome and being okay with that." He adds: "Top-down doesn't work."
You can read Joan Calcagnos' complete profile of David Aguirre at 3 Story Magazine.