AZPM
Stairwell Sessions provide a chance for local musicians to talk about their art, and play some songs in an acoustically-rich stairway outside the Arizona Public Media Radio Studio.
Nancy McCallion is best known for her days in the Tucson-based folk band The Mollys. Today, she continues her life-long love affair with music by writing songs and playing often alongside her husband, Danny Kreiger.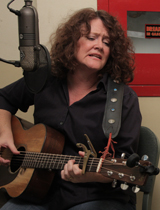 Nancy McCallion (PHOTO: Tom Casey)
She still keeps herself emerged in the music world, but said things are different now that she has become a parent and gained some perspective on her career.
"I think in terms of projects these days," McCallion said. "It's not like when I was young and I didn't have a family. Then, everything was music. Now I have to fit it in a little bit."
Her influences include classic American and British rock, along with strong doses of both Celtic and Mexican musical traditions. McCallion says that her favorite songs are those that tell stories, and she recalls being inspired a performance from the band Los Lobos that she saw decades ago at the Pima County Fair.
"I was just blow away, I just loved Los Lobos," she said. "They also mixed the Mexican with the rock and so the idea of this kind of hybrid music just made sense."
Mark McLemore talks with Nancy McCallion & Danny Krieger in this interview plus music:
Listen to the complete music-only Stairwell Session with Nancy McCallion & Danny Krieger:

Nancy McCallion and Danny Krieger Stairwell Session track list:
If It's a Party I'm Staying (take 2)
Lonesome Times
Old Women's Lament
He's Gone
Good Old Days
Will You Forgive Me?
I Came for a Dance
Reckless Child
You're a Stranger Now
Prospector's Lament
This Is My Round
Recorded on October 7, 2013
Recorded, Mixed, and Mastered by Jim Blackwood with assistance from Jamison Waddell.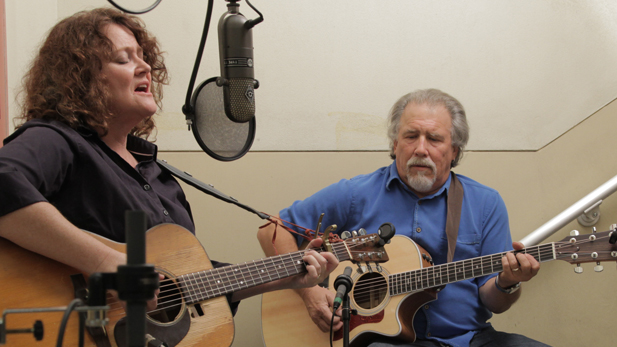 Nancy McCallion & Danny Krieger

Tom Casey

To listen to more artists recorded live on
The Stairwell Sessions
,
please click here
.