(VIDEO: AZPM)
.
Story by Maria Taracena and Monique Padia
When Daniela Preciado was a little girl, she was in foster care. She presented symptoms of abuse, but her red flags were overlooked.
With a crisis in Arizona's Child Protective Services agency on newscasts and front pages for the last two weeks, Preciado's experiences came to the fore.
An estimated 6,550 reports of child abuse made to the state were never investigated by Child Protective Services. That has led Gov. Jan Brewer to form a team of child welfare experts, elected officials and legal specialists to look into the reports and into ways to reform the system.
For Preciado, the revelations have stirred memories of her past.
"It is very heartbreaking to see it come out to light, and knowing that I was one of those cases," Preciado said in an interview for the Friday broadcast of Arizona Week..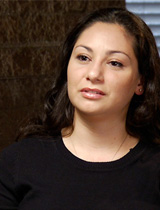 Daniela Preciado was merely 11 years old when she took herself and brother out of the abusive environment they had lived in for years. (PHOTO: AZPM Staff)
As she sat in a room at Casa de los Niños - an organization in Tucson working to treat and prevent child abuse and neglect - she looked back at the physical abuse she and her brother endured for years under the care of their aunt and her boyfriend.
She said both presented plenty of warning signs about what they were enduring, but no one ever asked them about their home life.
Preciado described an episode in particular when her brother had "probably done something bad," so her aunt's boyfriend tied a rope around his neck as punishment. The rope left a mark, but outside those walls no one seemed to wonder why a small boy had marks on his body.
"They (her aunt and her boyfriend) prepped us though (in case someone asked a question)," said Preciado, teary-eyed as she relived the event in her head.
If teachers at school asked them anything, they were instructed to say they were playing jump rope and somehow had gotten hurt.
"But nobody asked. There was never any questions," she said.
At the age of 11, Preciado said she and her brother found their way out of their abusive situation and into Casa de los Niños.
"I had never been in a shelter or anything like that. I was used to a home environment, but it was a safe haven," she said. "It was somewhere where I got attention, good attention ... and everybody was very friendly."
After living in three foster homes and several group homes, Preciado now is a wife and mother, inspired by her last foster family to become a foster parent herself.
Already married, Preciado asked her husband if he would be willing to be a foster parent. At first he was hesitant, but then he realized the light they could bring to these children's lives.
The couple's first experience as foster parents came after their neighbor's granddaughters were taken away by CPS. They were 10-month-old twin girls, who had been separated because the agency had not found a home that could care for both of them.
"I knew that family, and it broke my heart," Preciado said. "Something just told me, 'I need to get those babies'."
She has been a foster parent since, taking in 13 children in the past six years.
Preciado described the experience as an emotional roller coaster. Each child coming to her home is a reminder of her own experiences.
"My foster daughter right now is 10, and I totally see myself in her," Preciado said.
"If a child is being harmed, and they are pulled (out), they have hope ... for a better life," she said. "But if they grow up in that environment and never see (there are other ways to live) ... it is expected for them to be the same and stay the same."
Monique Padia is a University of Arizona journalism student and apprentice at Arizona Public Media.