Arizona's Child Protective Services agency has been under scrutiny for the past few weeks over reports that about 6,550 reports of child abuse were not investigated.
The news led Gov. Jan Brewer to rally state child welfare experts, legal specialists and legislators to work as an independent team that will look into why these reports were ignored, and identify cracks in the CPS system.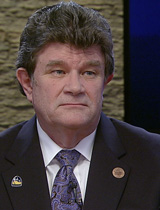 PHOTO: AZPM Staff
"...with all these children we have to understand that they are all of our children..." says Democratic State Sen. David Bradley.
Democratic State Sen. David Bradley has been vocal about the issue, and recently introduced his own proposal of what the state should do to successfully protect children. During Friday's broadcast of Arizona Week, he argued the problem has more than one layer, and that various state entities need to collaborate so that children get the attention they deserve.
"CPS is the tip of the iceberg in terms of the challenges that children face," said Bradley, who spent 30 years working in the child welfare and mental health system. "...all of these different entities...(the juvenile justice system, mental health system, public health system) should coordinate services under one department."
Essentially, it would be a system with various pairs of eyes aiming to detect any abuse a child may be facing. When working together, if one agency fails to notice warning signs, then the other could and so forth.
"All of these different entities are oftentimes working with the same kids, so lets put those resources together, and channel them more efficiently to hopefully avert the situation we're currently in right now," Bradley suggested.
He said money for this agencies' fusion would come mostly from reallocation of current funding. Then, after some analysis, Bradley predicted extra money will probably be needed, since CPS would not be the only agency targeted for child abuse related cases. However, he said no resources will be invested until there is a clear plan on how to deal with the crisis.
"When your own personal children are in crisis, you don't mess around, you personally will do anything that you need to do to help your child," Bradley said. "Similarly with all these children we have to understand that they are all of our children..."