A group of University of Arizona students gathered on campus today to protest high tuition costs.
State funding to public universities has been cut dramatically over the course of the last few years, forcing schools to raise tuition by nearly 70 percent since 2008.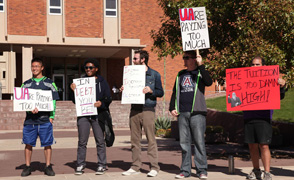 PHOTO: Amanda Le Claire
UA students protest tuition raises Wednesday in front of the administration building.
That's the highest increase for in-state tuition in the U.S.
UA undergraduate student Kael White organized Wednesday's protest via Facebook.
He said he thinks that the long-term burden of student debt is not being taken seriously.
"Personally, I came in with an academic…a full ride academic scholarship, but I'm still facing a little under $10,000 worth of student loans," White said. "The average student that graduates from the UA does so with just over $22,000 worth of debt."
Earlier this year, the Arizona Board of Regents voted in favor of allowing Arizona's three public universities to increase tuition by three percent for next school year.
For the UA's in-state undergraduate students this increase translates to a cost of more than $10,000 per year.