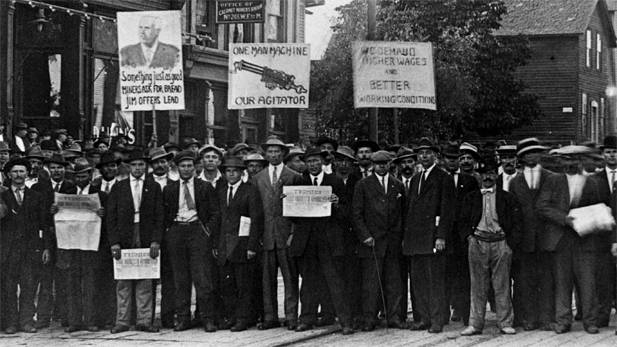 Picketers during the 1913 strike. One carries a sign, "One Man Machine - Our Agitator." Another carries a sign reading "We Demand Higher Wages and Better Working Conditions." (PHOTO: PBS)
An epic labor strike that devastated Michigan's Copper Country in 1913 haunts the American labor movement to this day. Among the notable elements of that strike was the death of 73 children at a union Christmas party, a tragedy immortalized by Woody Guthrie in his ballad "1913 Massacre," performed in the film by Steve Earle. The event remains the deadliest unsolved manslaughter in U.S. history. This program traces the Copper Country strike from its hopeful start to its heartrending conclusion. Between those endpoints, it explores the intensifying battle between organized labor and corporate power, as well as issues of immigration and technology.
Red Metal: The Copper Country Strike of 1913, Tuesday at 8 p.m. on PBS 6.