Third in a series: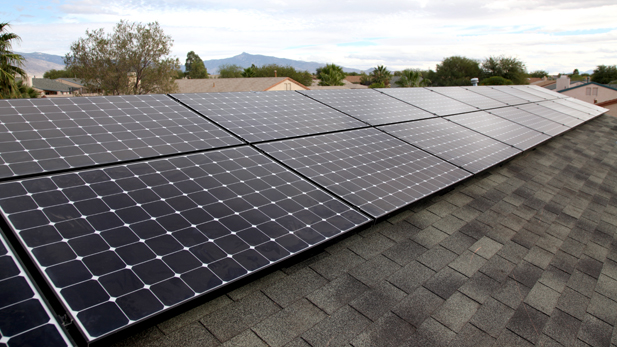 The 25-panel solar power system set-up of the roof of Enrique Ward's home. (PHOTO: Yoohyun Jung)
Listen:
Jim Finch's house on the southeast side of Tucson was built in the 1970s. He and his wife, Susan, made many different changes to their house to make it more energy efficient.
City officials and researchers said the best way to adapt to climate change is by doing just that, but it may not be the most affordable option.
Although the price of solar and other renewable energy systems have declined steadily over the years, the up-front cost usually isn't an amount that people can just dish out. On top of that, some of the incentive programs to support home energy renovations are disappearing.
Finch planted shade trees, added insulation, replaced old single-pane windows with double-pane, and started using fluorescent light bulbs instead of incandescent ones.
They made simpler changes as well.
"We turn things off," Finch said. "There's no reason to light up your whole house and you switch things off when you're not there."
Those small and big changes -- both to their house and living habits -- allowed them to minimize energy use. Also, those are necessary steps for people to take before taking leaps into bigger energy efficiency plans, according to experts.
Finch understood what it took to renovate their relatively old home to maximize energy efficiency.
"If you lived in a house and you just had your solar power and you had your air conditioning or your heat pump, that would be one thing, but this house is kind of a combination," he said.
After reducing energy use, he and his wife took the next big step and invested in solar power.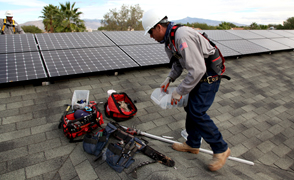 Sonny Perez, a solar technician, is sorting the equipment used in installing solar panels on a residential roof. (PHOTO: Yoohyun Jung)
"We tried to combine keeping shade, insulated roof and all the other things that go with the solar [panels] and the heat pump," he said.
He said he used state and federal tax incentives, as well as a program from Tucson Electric Power to pay for the solar panels. The combination of incentive programs and tax credits paid for about one-third of the total cost.
Without those incentives, he and his wife could not have afforded it, he said.
"The whole catch as I see it is how to use the tax incentives," he said. "If there weren't tax incentives, you'd be looking at 14 to 15 years to get your money back, which is not nearly as good of a deal."
The federal residential energy efficiency credit, which is part of the American Taxpayer Relief Act of 2012, currently provides up to $500 or 10 percent of the total cost for home energy renovations, such as adding insulation, roofing and fixing windows and doors. This incentive is set to expire on Dec. 31.
Another energy efficiency tax credit set to expire is the renewable energy incentive, which provides a 30 percent tax credit to people installing solar or other renewable energy systems. December 2016 is the expiration date for that one.
The future of these federal programs is unclear, according to Bill Brunson, spokesman for the IRS.
"Congress will make the decisions whether to extend or not to extend," he said. "At this point in time, I am unaware of anything but that doesn't mean something may or may not happen."
He also said, to his knowledge, no legislation has been on the radar to replace these programs.
But the price of solar technology has gone down by 60 percent in the last five years and is still on the decline, according to Robert Neifert, director of commercial projects at Stelcor Energy, a Tucson company that helps people renovate their homes and businesses to become energy efficient.
Solar energy rates are locked in at the time of purchase and not influenced by inflation, Neifert said.
"The benefit of solar is that as electricity prices rise, you're still getting your solar based on the price you paid for it however many years ago at that locked in rate," he said. "Every year, your electricity price is going to go up, but your solar has paid for itself or it's locked in at a lower rate so your savings will actually increase every year."
That is why Finch chose to go solar, he said. It will take him seven years to break even, but he said installing solar panels and having an energy efficient home are an investment.
"My friends all said, 'Why did you pay all this money if you can just pay the bill?'" he said. "Well, I don't control that bill."
He said that he wouldn't have any control over how much the power company will charge.
"I have a choice," he said.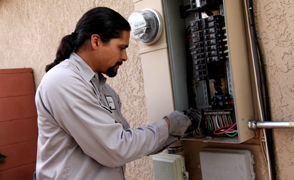 Justin Scott, an electrician, is working on wiring the system to support the solar panels. (PHOTO: Yoohyun Jung)
With net metering, he has more control, he said. Net metering allows people to store the energy they generate with solar power systems, add to the city's power grid and earn credit, according to Neifert.
"It means that when you produce power during the day, you get credit so it spins the meter backwards," Neifert said. "And at night, you get to use the power from the utility company as a battery."
More options on financing solar technology have become available, opening the door for people who may have shied away because of the prices.
Enrique Ward is one of them. He began looking into solar energy for his Rita Ranch home five years ago, but he could not justify the cost at that time. Over the years, the prices have come down enough that he chose to reconsider.
"I don't want to be throwing away any money," he said. "If I can do something at minimal cost to save some money, then I'll do that."
But Ward said after weighing his options, he still could not justify the large up-front cost. So instead of purchasing the solar panels, he chose to lease.
"Father of four – there's not a whole lot of disposable income," he said. "I did not want to finance or add any more debt to my budget so the leasing option [allowed me to] put nothing down and start seeing immediate results."
Leasing does not allow people to lock in their energy rates, according to Neifert. So, although they will see benefits right away with small to no up-front costs, in the long run, the return will not be as much.
Solar and energy experts say it is important to remember that installing renewable energy systems is a long-term investment, and requires time and financial commitment.
Climate Change Series Parts I and II
By Yoohyun Jung

Historic Park's Pond Drying Because of Drought
Listen:
The Roy P. Drachman Agua Caliente Regional Park is an oasis sitting in the middle of urban northeast Tucson. It is where desert meets a swamp environment. However, the swamp part has been fading away lately.
The once-full pond now reveals mudflats. The corners out of reach from the deeper end of the pond are vulnerable to severe drought conditions. Those areas showed cracks, and the plants that once lived there dried out.
For rest of the story click here.

Climate Change Impact Felt in Southwest With Rising Temperatures
Listen:
Climate experts say it is clear humans are influencing global climate change, and the Southwestern United States will feel the impact through rising temperatures.
The Intergovernmental Panel on Climate Change, an international organization of scientists investigating climate change, released the first part of its fifth assessment report last month. The report showed "human influence on the climate system is clear," according to an IPCC news release.
For rest of the story click here.

Yoohyun Jung is a University of Arizona journalism student and an apprentice at Arizona Public Media.