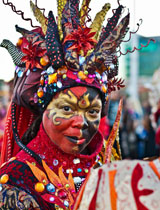 To-Ree-Nee Wolf Keiser as an urn attendant at the 2013 All Souls Procession (PHOTO: Dominic Bonuccelli)
Tales of Tucson is a series of original radio dramas inspired by the legends, mysteries and magic of the Sonoran Southwest.
Series co-producers John Vornholt and Laura Markowitz have each explored different forms of storytelling throughout their careers. Markowitz is a novelist and National Magazine Award-winning feature writer, in addition to being a a contributing producer to Arizona Spotlight. Vornholt is a New York Times best-selling author of over 65 novels, as well as plays, radio dramas and screenplays. He is also a theatrical producer and director.
Tales of Tucson Episode One: "All Souls Laid to Rest" features the voices of Bree Boyd-Martin, Roger Owen, To-Ree-Nee Wolf Keiser, Meagan Jones and Armen Serrafian amid the sounds of the 2013 All Souls Procession.
While searching for her friends among the costumed crowd at the All Souls Procession, Kate encounters a man in a skeleton mask who turns out to be more than he seems...
Listen: