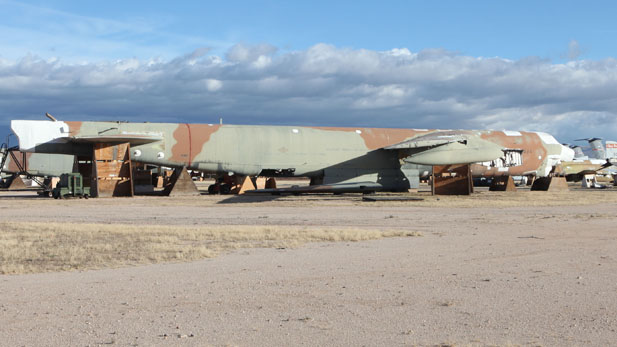 PHOTO: Image courtesy: Air Force 309 AMARG
The B-52G bomber that will be destroyed Thursday, Dec. 19, 2013 in Tucson. The red line on the left end of the image shows where the tail will be sawed off.
Listen:
The last of the B-52G bombers used in the Vietnam War will be destroyed in Tucson Thursday morning.
There are other models of B-52 bombers still in use, but the 200 G models were designated for destruction in a 2011 treaty with Russia.
The aircraft's tails must be sawed off as part of the treaty, and then the rest of the out-of-service model can be used as parts on existing models, said Vaughn Johnson, the treaty compliance officer at Wright-Patterson Air Force Base in Ohio. He is assigned to ensure all the planes are destroyed.
The last existing B-52G will be sawed into two pieces Thursday starting at 9 a.m.
Johnson flew more than 200 missions during the Vietnam War, including four flights in the airplane set to have its tail sawed off.
"They were the backbone along, with the D model, of our Southeast Asia-Vietnam campaign," Johnson said. He flew them from Guam during his service in the 1970s.
The G model of the B-52 bombers are the only models ordered destroyed in the treaty. Other models are still in use, and that's why the spare parts from Gs will remain useful, Johnson said.
"We started needing these airplanes for parts. The B-52, the last one was built in '62. We're going to fly them until 2045. They'll be almost 100 years old," he said.
Johnson won't be able to travel to Tucson to watch the final aircraft elimination. He has seen a number of others, though, and said it is an emotional process to oversee.