Listen:
Marshall Vest, the economist at the University of Arizona who is known for economic impact studies and forecasting local and state trends, will retire Jan. 10.
After 35 years on the job, most of them as director of the Economic and Business Research Center in the Eller College of Management, Vest said he is looking forward to handing the reigns over to George Hammond.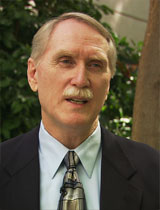 Economist Marshall Vest says Arizona's economy, like the nation's, faces a fitful recovery.
Vest hired Hammond about 18 months ago, with the plan in place for Hammond to succeed Vest as the center's director.
That job is to uphold the Economic and Business Research Center's reputation for doing a lot of work, Vest said.
"The center is the premiere source for information on Arizona's economy. Our mission is to provide data and research and analysis for Arizona's decision makers," Vest said.
Hammond is ready to take over the job, he said.
"Looking forward to that, it's an exciting challenge. This is an exciting place to work," Hammond said.
Looking back, Vest said a lot has changed since he moved to Tucson after a childhood on a Midwest farm.
"When I first moved here, almost 45 years ago, the population of Pima County was 331,000 and today the population is just shy of a million by a few thousand," he said. "We've seen tremendous growth."
The growth has included technology, Vest said, as he awaited the center's announcement of a mobile application for smart phone users to track the Arizona economy.
But, there's still room for improvement, he said.
"It's a much more diversified economy than it was then, although I would tell you that the economy is still underdeveloped for the size of the population. We still have some work to do developing the economy, and the industries and the jobs that we require to support a population this size," he said.