Terry Goddard will re-enter Arizona politics by seeking the Democratic nomination for secretary of state, he said this week.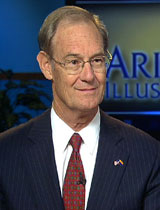 Terry Goddard.
Goddard, a former state attorney general and Phoenix mayor, lost the gubernatorial election to Republican Jan Brewer in 2010.
In a statement posted on his Facebook page Monday afternoon, Goddard said he will announce formally in mid January.
"After many discussions and much serious thought, I have decided to run for Arizona secretary of state," he said on Facebook. "I love our state and can't stay on the sidelines when fair elections are at risk and dark money is polluting campaign financing."
State Sen. Leah Landrum Taylor, who lost a bid to stay on as Senate minority leader last month, also has said she will seek the Democratic nomination for secretary of state. Three Republicans have expressed interest, former U.S. Senate candidate and Mesa businessman Wil Cardon, state Sen. Michele Reagan and state Rep. Justin Pierce.
Goddard served as Phoenix mayor from 1984 to 1990 and as attorney general from 2003 to 2011. He is the son of the late Sam Goddard, a former Democratic Arizona governor.
Republican Secretary of State Ken Bennett is in his second term and not eligible for another. He has announced his candidacy for governor.