A New Mexico-based artist is in town to talk about a modern way of seeing the Jewish tradition of the tallit.
Tallitot have been around for centuries, and they are shawls that have prayers on them.
Beth Surdut has been making custom tallitot for some years now, and says they give people a chance to step out of the chatter of daily life and into a meditative state to communicate with a higher power.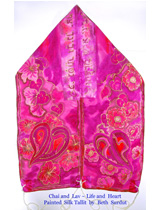 PHOTO: Beth Surdut
Tallit by Beth Surdut.
She hand paints the silk shawls, and gets white fringe sent from Israel to tie, using numerology so that wraps and knots spell the phrase, "God is one."
Sudut explained that a tallit has to have a collar, which is were the prayer goes, and four corners. When people put one on, they're supposed to hold it up, read the prayer, kiss each end of it and then place the tallit around their shoulders.
"I work (with my clients) to find a prayer that helps them step into a portable sacred space," she said.
Sudurt describes her work as a celebration of nature, beauty and paying attention to what in front of us.
"In Jewish tradition, there is a prayer for everything," she said. They acknowledge everything in our surroundings, from thunderstorm to flowers. "Stop and appreciate what is in front of you...that is how (the tallitot) tie into my work."
Beth Surdut will be at the Tucson Jewish Community Center discussing the modern tallit on Jan. 12 at 2 p.m. For more information call 299-3000.