Listen:
After four years, Pima County Supervisor Ramón Valadez is stepping aside from the chairman's seat, and Sharon Bronson is taking the gavel.
While the role doesn't come with added power or much more responsibility, Bronson said she does get the advantage of pushing certain issues.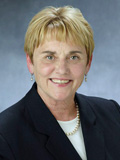 "You can take the bully pulpit and certainly promote an agenda, but I think in this case all five board members have a pretty identical agenda," she said.
Those priorities are improving county roads and finding the funding to do so; avoiding increasing the property tax rate, which funds county operations; and encouraging economic development.
The board holds elections on an irregular schedule. Valadez served as chairman for four years, and during Bronson's last stint as chairwoman, she was also in the seat for about four years.
There's nothing typical about the way we do things," she said. "It's been at least every couple of years…it's certainly at the board's discretion."
It is her responsibility to keep the board meetings professional, she said.
"You've got to be together as a team. We may disagree, but you've got to do it in a respectful way and we all have to work together to serve our taxpayers," she said.
She also will have to represent the board at ceremonies and events.
"The only added responsibilities for the chair are to assure the civility and to act when appropriate as the representative of the entire board," she said.