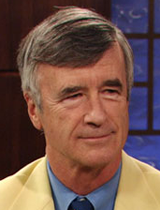 PHOTO: KAET-TV
Robert Shelton.
Fiesta Bowl Executive Director Robert Shelton has resigned and is heading back to Tucson to head the Research Corp. for Science Advancement.
Shelton, who was president of the University of Arizona between 2006 and 2011, is a physicist by training and said he has long admired the mission of the corporation. He will be the second former UA president to head Research Corp. John Schaefer, president from 1971 to 1982, ran the organization after his UA tenure.
Shelton took over leadership of the Fiesta Bowl following a scandal that led to federal indictment of the former head of the college football organization in a scandal over political campaign contributions.
Research Corp. works with young scientists to bring their ideas into the mainstream of scientific innovation and application.