Gov. Jan Brewer said Tuesday she is considering running for a second full term and likely will decide in February.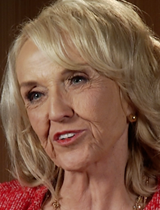 Gov. Jan Brewer. (PHOTO: AZPM)
Brewer, a Republican who is starting her sixth year in office, served the second half of former Gov. Janet Napolitano's term and then was elected to her own four-year term in 2010. The term will end in January 2015.
The state Constitution limits the governor and other statewide offices, called the "executive department," to two terms.
Article 5, Section 1 says: "No member of the executive department shall hold that office for more than two consecutive terms. ... No member of the executive department after serving the maximum number of terms, which shall include any part of a term served, may serve in the same office until out of office for no less than one full term."
In an interview Tuesday with Arizona Public Media, Brewer said she has consulted with constitutional lawyers on the topic.
"Terms limits is two four-year terms is what two terms are," she said. "I've got constitutional attorneys not only here in the state of Arizona but across the country. I've got people that have encouraged me to run. I will make my decision, and I will do that sometime probably in February. When I do, I will announce either by saying that I'm not running or possibly by filing my papers for nomination."
Brewer and her supporters previously mentioned the possibility of her seeking another term.
Secretary of State Ken Bennett, first in line to succeed the governor should the office be vacated and a Republican candidate for governor, said more than a year ago that his reading of the Constitution tells him that both he and Brewer must end their current tenures with this term.
"We read the constitution on its face that any portion of a term counts as a full term,'' Bennett told the East Valley Tribune in December 2012. "And both of us will therefore have served two terms by the time the 2014 election occurs.''
Bennett was appointed secretary of state in 2009 after Brewer ascended to the governorship.