Coming up on the January 17th, 2013 edition of ARIZONA SPOTLIGHT with host Mark McLemore: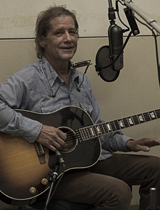 (PHOTO: Jamison Waddell)
A founding member of The Jefferson Airplane, guitarist Jorma Kaukonen has been playing the music he loves for more than five decades. Jake Feinberg talks with Jorma about his upcoming show in Tucson as part of Hot Tuna alongside his musical partner Jack Casady...

Do you watch widescreen theatrical films on your smartphone or other portable device? Many do, and film writer Chris Dashiell reflects on ways that the cinematic experience changes as it has transitioned from movie screens to living room televisions to the palm of your hand...

And, listen to a veteran musician whose songs are rarely heard outside of local bars and coffeehouses, as the Stairwell Session features singer, songwriter and guitarist Cyril Barrett...
Listen to the complete show:
ARIZONA SPOTLIGHT airs every Friday at 8:30 a.m. and 6 p.m., and every Saturday at 5 p.m., on NPR 89.1 FM / 1550 AM. Stories are also available online at AZPM.org.