Listen:
Pima County departments are working with residents in the Cienega Creek area to restore the habitat of native frogs.
The effort is getting attention from the federal government as a unique partnership. Interior Secretary Sally Jewell recognized the cooperative effort for bringing together what are sometimes competing interests.
Pima County's departments of natural resources, flood control and its office of sustainability and conservation have been working with residents in the 450-square-mile Cienega Creek watershed, the area of land that feeds the creek.
"The Cienega Creek watershed in general has been suffering from long term drought that we're in, so there have been projects looking at the extent of that drought, what is it doing to wildlife, and what can we all do to improve conditions," said Kerry Baldwin, director of Pima County Natural Resources, Parks and Recreation.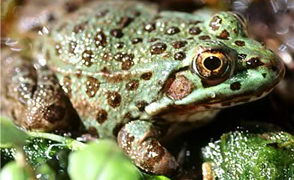 PHOTO: Arizona Game & Fish
The Chiricahua leopard frog is being re-introduced to its native habitat in Arizona and New Mexico.
The group decided to apply for a grant to fund its work, and Pima County provided proof of matching financial contribution to meet the grant requirements, Baldwin said. The participants brought financial and technical knowledge that made the partnership work, he said.
"The emphasis here is that no entity can do it by themselves, the complexity of today's environmental issues is so great you really have to work together," Baldwin said.
One of the projects was to restore the habitat of the Chiricahua leopard frog, a native species that was threatened by invasive bullfrogs.
"That's where people have introduced bullfrogs or other exotic species that out compete our native frogs," Baldwin said. "We've physically gone in and altered water tanks, stock tanks in areas, and removed the bullfrogs and the reintroduced the native frogs back in."
The relationship is a model, Baldwin said, for other projects, including in Altar Valley in western Pima County, and Reddington, in northeast Pima County.