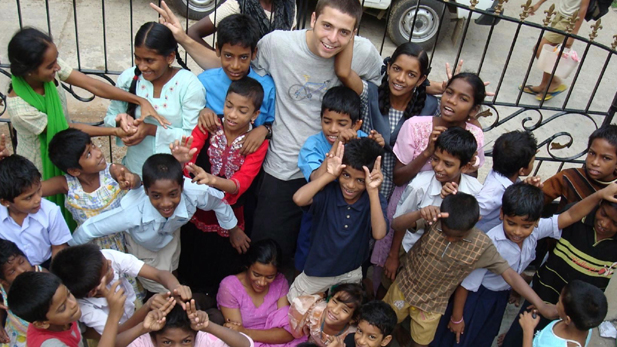 Rocky and the kids on his first trip to India. (PHOTO: PBS)
The unmistakable power of love is celebrated in this story of one man's decision to move to India and restart his life among the dispossessed. Rocky Braat was dissatisfied with his life in America and traveled to India as a disillusioned tourist. When he met a group of children living in an orphanage for those infected with HIV, he decided to stay and devote his life to them. Having grown up without a close-knit family of his own, he found his calling living and working with these kids. Unlike others who simply passed through their lives, Rocky stayed, dedicating himself to their health and well-being. Despite formidable challenges, his playful spirit and determination in the face of despair prove to be an invaluable resource.
"Blood Brother," a documentary feature directed by Rocky's longtime friend Steve Hoover, traces Rocky's story of working in the village of Tamil Nadu, India, for several years. The film illustrates his commitment to the children and the families who face life and death situations daily.
Independent Lens: Blood Brother, Monday at 10 p.m. on PBS 6.