Listen: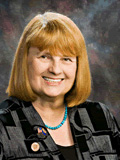 Arizona Rep. Andrea Dalessandro, of Green Valley, will move from the House to the Senate this week.
The Pima County Board of Supervisors voted 5-0 to appoint Dalessandro to fill the Senate seat Linda Lopez resigned from to devote herself to a full-time job.
Once Dalessandro is sworn into the Senate, the formal process to replace her in the House could take two or more weeks.
The process will be the same as it was for the vacant Senate seat: Democratic Party officials from Legislative District 2 will meet and choose three possible replacements. Then, the Pima County Board of Supervisors will choose one name from the list of three to serve for the rest of the year in the state House.
The appointee would have to run for election in the fall if he or she wants to serve a full two-year term in office.
The other two nominees to replace Lopez were Demion Clinco and Annabelle Nuñez, neither of whom have held elected office before.
Clinco attended the Supervisors' meeting, and afterward congratulated Dalessandro on her appointment.
The supervisors encouraged Nunez and Clinco to stay involved in the community, and Supervisor Sharon Bronson encouraged Clinco to run for elected office.
"I'm so glad to see that we have such qualified candidates, but I am particularly heartened that we have young qualified candidates," she said.
Clinco was hesitant to commit to future plans. He said he would take some time to reflect on the process that just ended before he decides whether to seek the vacant House seat or run for election in the fall.
"I have a long commitment to our region, and I'll continue to serve, and I'm going to look at how I can do that in different ways," Clinco said.
Supervisor Ramón Valadez served in the Arizona House and Senate, and said those experiences helped him decide to vote for Dalessandro for the Senate appointment.
"Having served in both chambers, I'd like to see someone who has some experience," Valadez said.