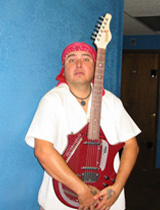 He was known by many names, including Bolt of Apollo, Psycho Master El, and Jodie Cosmo - but Jesus Acedo will be remembered best as the founder and lead guitarist of Black Sun Ensemble.
The band received critical acclaim and built a cult audience with the release of its first album in 1985. In the 28 years that followed, Acedo would chart his own course through the perils of both the indie music business and mental illness, getting by with help from his friends and family.
Jesus Acedo died in March of 2013, but now his memory and his artistic legacy are being celebrated by those who knew him best.
Guitarist Eric Johnson and percussionist and dancer Fonda Insley were friends and bandmates with Jesus Acedo. In this interview, they tell the story of how Black Sun Ensemble's final album was completed...
Listen:
Eric Johnson and Fonda Insley are also members of Cobracalia, the current evolution of Black Sun Ensemble. They will headline the record release party in Jesus Acedo's memory on Friday, January 31st at the Rialto Theater in Tucson, also including Burning Palms, Leila Lopez, and belly dancing.