(VIDEO: AZPM)
Newly appointed Secretary of Homeland Security Jeh Johnson visited Arizona for the first time earlier this week, and during a press conference in Tucson he said security in the Southwestern border is a priority.
President Barack Obama recently allowed for a one percent increase to the Customs and Border Protection budget, aiming to hire more inspectors at ports of entry. New technology and more Border Patrol agents have also been added, but some people question whether this makes the U.S.-Mexico border more secure.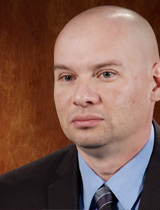 Art del Cuento, president of the Local 2544 National Border Patrol Council in Southern Arizona. (PHOTO: AZPM Staff)
An Arizona Border Patrol agent joined this discussion during Friday's broadcast of Arizona Week, where he argued that, while those in Washington, D.C. have taken some steps to try to better secure the border, the area is by no means safer, yet.
Art del Cuento, president of the Local 2544 National Border Patrol Council, said they have gotten more staff and new equipment. But the changes look better on paper than they do in the desert.
"While we have more agents, we find ourselves (lending) agents to other agencies (who need them)...agencies covering prosecutions...DEA...port of entries," he said. "They are not out there doing the agent work, they are assisting other agencies, and that is where the issue is."
When it comes to equipment, del Cuento said a better strategy would be to combine the old with the new, instead of relying on newer tools, which sometimes can be limiting because they are either too big or too complex.
Budget cuts are also a major problem.
During his visit, Johnson spoke about decrease in funding, and the concerns local border agents expressed on how these have affected and will continue to affect their work. Del Cuento agreed that less money has harsh consequences in every area of border security. He said he has never seen so many cuts as he's seen recently.
"Four years ago, seven...ten years ago, we had the flow of money, so we could buy things (we needed)," del Cuento said. "Now, we are stuck in this position, where we can't say 'this is what we need,' and we get it."
He argued that, in order for politicians to understand the situation, they need to schedule more trips to the border and go deep in the desert to truly see what agents are dealing with. He said many of them, often, just travel to ports of entry, and this is not where the real danger is.
"I have an open invitation for every single politician, they can come down and I will personally take them down to the border, and show them where we actually work," del Cuento said.