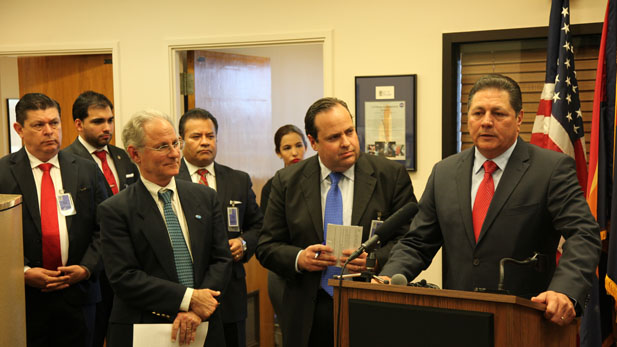 PHOTO: Kate Newton, AZPM
Samuel Moreno, coordinator of the PRI Parliamentary Group in Sonora, speaking at Tucson Mayor's office
Listen:
A Sonoran lawmaker publicly thanked Tucson Mayor Jonathan Rothschild and members of the City Council for their efforts to strengthen economic and social relationships with Mexico.
"The relationships have grown and those are going to bring great results in the future," said Samuel Moreno, coordinator of the PRI parliamentary group in Sonora, a position similar to speaker of the state House of Representatives.
Moreno presented Rothschild and Councilmembers Karen Ulich and Richard Fimbres with plaques of appreciation for taking steps to increase trade and tourism between Sonora and Arizona.
Rothschild said he is making binational relations a priority because both countries benefit from strong trade and tourism, but also because he had been frustrated with the damage SB 1070 did to relationships with Mexico.