Listen:
When you hear the word "gentrification" you may think of cities like New York or San Francisco.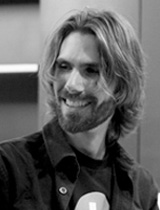 Aengus Anderson.
But it's an issue here in Tucson as well. After recently buying a home in one of Tucson's oldest Latino neighborhoods, independent radio producer Aengus Anderson had the sinking feeling that maybe he too had become a gentrifier.
Aengus Anderson is a radio producer with a background in post-production, photography, and US History. He has motorcycled around North America twice, interviewing over four hundred Americans, Canadians, and Mexicans for long-format radio projects that explore how people think about the present and the past. The Conversation grew directly out of those projects and is his attempt to better understand the future.