Story by Jake Feinberg

Listen:
Tucson has a treasure trove of musicians that have played on the world stage. As with most big little towns in this country identity is hard in the 21st century because of the Internet and amount of music that is available.
Records which were the dominant listening medium 50 years ago helpedA Jamal, Charlie Musselwhite, Harvey Brooks and Mac Rebennack gain identities within the public sphere through pictures, linear notes and the music itself.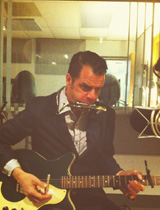 Tom Walbank.
To develop an identity today you need to separate yourself from the half baked buffalo Springfield wanna bees and Paul Butterfingers by developing your own individual sound. Stop trying to sound like Sonny Boy Williamson or Charlie Christian, stop emulating joe morello and Toots Thielsman and be yourself. Don't be afraid to be yourself is my guests mantra. He immersed himself in scotch Irish blues and the echoes of Elvin Bishop growing up in England and Scotland. He took the music he was hearing and began to elicit sounds on the harp from the visceral gut induced soul cycle that exists within every magician err musician.
He uses his voice and harmonica to bend notes and harmonies and melodies in angular prisms of light that can act as a pyramid to the sun or a reflection from a shard of glass after a hard days night at The Barrio Brewery.
When Smokey Robinson would go into the Panhandle or John Lee Hooker would go on tour they would go to different towns and ask about the local talent in that town. It was too expensive to bring their working bands on the road so by scouting local talent they in turn were giving cats an identity and their next gig, open door and opportunity.
Such is the case with my guest who has firmly entrenched himself in the Old Pueblo scene. It was not surprising to me to see that when Indianola Blues Master BB King swings through Tucson on Feb. 18.

My guest Tom Walbank will be joining him performing that evening at the Fox Tucson Theatre.