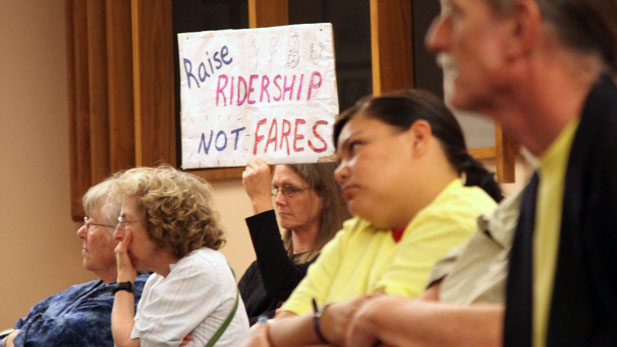 Members of the Tucson Bus Riders Union protest proposed bus fare increases outside the Tucson City Council meeting Feb. 19, 2014. (PHOTO: Andrea Kelly, AZPM)
Listen:
The Tucson City Council Wednesday identified about $4.8 million in potential savings in the Sun Tran transit budget, possibly through raising bus fares and changing some bus routes.
About $2.4 million could come from raising the regular bus fare from $1.50 to $1.75 and the economy rate from 50 cents to 65 cents. The proposal, which would take effect July 1, is one of several the city staff suggested as options to reduce the city's funding of the services.
The move is part of an effort to find $6 million in savings or revenue in the transit system. The city is facing a $33 million deficit for the fiscal year that begins in July, and the budget must be balanced by then.
The City Council voted 5-2 to send the fare increase proposal to a public comment period beginning next month. A final vote is required before fare increases would take effect.
Councilwoman Karin Uhlich, one of the no votes, said during the meeting she supports a component of the proposal, which is to phase in smaller fare increases during a number of years, as a way to make fare increases predictable and affordable.
"With Tucson Water and other services we manage, we typically give a five-year scenario so people even know five years out what the plan is, why we're increasing the prices and what to expect for their own pocketbook," Uhlich said. "I think we're getting closer with that kind of five- to 10-year plan. I just don't think we're there yet."
She said she doesn't want an increase this year.
(PHOTO: Andrea Kelly, AZPM)
Several council members said they expect the proposal will change because of the public feedback process. That will make it difficult to determine whether it will save more or less money than predicted.
"All we're doing tonight is keeping our options open," said Councilman Steve Kozachik.
About 18 members of the Tucson Bus Riders Union attended the meeting and applauded the council when it expressed a desire not to make bus riders pay for the entire budget reduction in transit.
The two proposals don't make sense, said Jim Thomas, a member of the union.
"They're not only talking about fare hikes, they're talking about reductions in service. And they want to attract more riders. You can't attract more riders with less service," he said.
Rider Jimmy Ojeda said he is glad the public will have a chance to weigh in on the proposals, but the prospect of making a decision about the proposals isn't ideal, he said.
"I think it's unfair for bus riders to be put in that situation, and also for the council to be put in that situation where you have to choose between increasing fares or cutting routes," he said.
The council also voted to seek public comment on a proposal to change up to 30 bus routes to respond to periods of high demand, eliminate similar or duplicated routes and reduce service costs by another $2.4 million.
"I'm not sure that any of these proposed as is, without some tweaks, are good enough for what the people deserve," said Councilman Paul Cunningham.
The council decided not to seek feedback on a wider-scale proposal to reduce bus service on a number of bus routes.
"We're still early in the process, and part of our requirement is before any changes are made we go through a public process," said Carlos De Leon, assistant Tucson transportation director.
Britain Eakin contributed to this story.