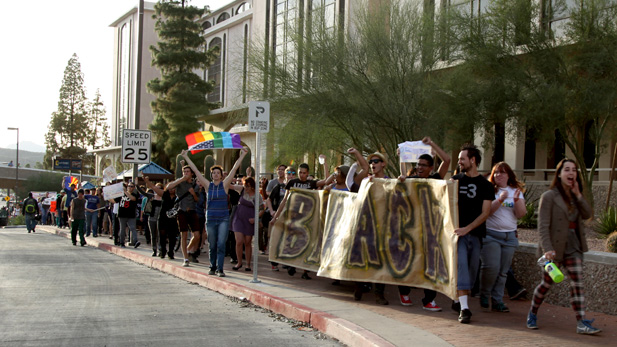 More than 200 protest the passage of the Religious Freedom Restoration Act in Tucson. (PHOTO: Fernanda Echavarri, AZPM)
Listen
Gov. Jan Brewer has five days to decide if the Religious Freedom Restoration Act, a "controversial piece of legislation," should become a law or be vetoed.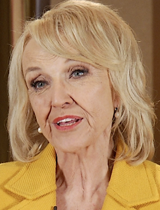 Gov. Jan Brewer. (PHOTO: AZPM)
"I've been out of town but I've been reading about it on the Internet," Brewer told CNN Friday. "I have to get my hands around it."
The bill allows business owners, pastors or any individual to assert religious beliefs when refusing service to gay, lesbian and transgender people, among others.
To assert an exercise of religion defense the individual, business or church must demonstrate "that the act is motivated by a religious belief, that the religious belief is sincerely held and that the state action substantially burdens the exercise of religious belief," according to the legislation.
"Discrimination happens and it has happened to me many times because people assume I'm gay," said Adria Brooks, one of the more than 200 protestors who marched from Wingspan near Fourth Avenue to the state building in downtown Tucson.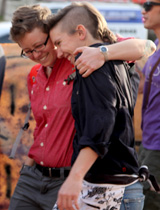 Adria Brooks and Michelle Closs with protestors (PHOTO: Fernanda Echavarri, AZPM)
"But the fact that it would hold up in court is kind of haunting," Brooks said. "I'm willing to let go of an individual's point of view but when I feel like the entire state backs them up, it's a lot harder."
The bill moved through the state House and Senate quickly last week and Sen. Al Melvin, R-Tucson, supports it.
"It's simply a defense of religion bill, that may rub some the wrong way," Melvin said.
Senate Bill 1062 is a response to an "attack on conservative beliefs in parts of our society like the Boy Scouts or the repeal of Don't Ask Don't Tell in the military, you name it," Melvin said.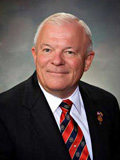 State Sen. Al Melvin, R-Tucson.
"I have heard of cases in other states where owners of flower shops and bakeries and pastors and others have been forced to be involved in gay and lesbian marriages against their will and this is an attempt to protect those people here in Arizona," he said. "There is nothing sinister about it it's pretty straight forward."
Steve Melde, pastor at Christ Presbyterian Church said lawmakers are using religion and taking it beyond the church.
"In part I have to respect that some people disagree on the issue of homosexuality whether it's acceptable or not whether God is pleased or not and that's fine, have a difference of opinion," he said. "But to legislate in this manner is not only – in my opinion – anti American and what we're about here as a country, but it's also not what Jesus would have had us do," he said.
A number of elected representatives, or those seeking state office, have issued statements opposing the bill. Most of them have said it could give the state a reputation for discrimination, and discourage tourism or business opportunities in Arizona.
Fear of economic backlash comes from the state's experience in 2010, when business conferences and entertainment groups cancelled plans to travel to Arizona after Brewer signed the state's controversial immigration enforcement law, SB 1070.
The Tucson Hispanic Chamber of Commerce sent a letter to the governor asking to "weigh important considerations against the limited intent of the bill and determine that it is in the best interest of our Arizona to veto SB 1062," Lea Marquez Peterson, president and CEO wrote.
Protestors from faith-based organizations, LGBTQ advocacy groups and business leaders protested SB 1062 (PHOTO: Fernanda Echavarri, AZPM)