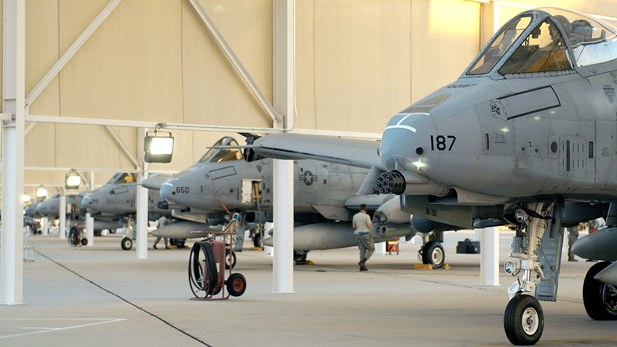 A-10s from the 354th Fighter Squadron at Tucson's Davis-Monthan Air Force Base. (PHOTO: Davis-Monthan Air Force Base)
Listen:
U.S. Secretary of Defense Chuck Hagel announced Monday he is calling for the retirement of the A-10 Air Force aircraft.
The announcement came during Hagel's budget recommendation for the Department of Defense for fiscal year 2015, which begins in October.
The A-10 is the primary aircraft based at Tucson's Davis-Monthan Air Force Base. Nearly 80 of the planes are based there, and if they are mothballed, it could have a serious affect on keeping the base open.

Col. Kent Laughbaum was the commander for the 355th Fighter Wing at Davis-Monthan before he retired. He said the base is a large economic engine for Southern Arizona.
"Last year, at Davis-Monthan Air Force Base, the commander...Col. Blanchard conducted a study and determined that the local impact just for Davis-Monthan was $1 billion," he said.
However, the Air Force portion of the Pentagon's budget recommendation for fiscal 2015 calls for new planes and updated engines, Hagel said.
"To fund these investments the Air Force will reduce the number of tactical air squadrons including the entire A-10 fleet," he said. "Retiring the A-10 fleet saves $3.5 billion over five years and accelerates the Air Force's long standing modernization plan, which called for replacing the A-10s with the more capable F-35 in the early 2020s."
The Pentagon made a similar recommendation last year, but Congress voted against it. Congress must approve any budget request before it goes to the president for signature or veto.
U.S. Rep. Ron Barber joined with a bipartisan group of senators and representatives last year to put language in the Defense Authorization Act prohibiting the Air Force from even planning to rid of the A-10 during calendar year 2014.
Barber said Hagels' budget request may violate that law.
"We are going to be looking into that. I have serious questions about whether this properly abides by the instructions that Congress gave to the Department of Defense that was signed into law by the president," he said.
Barber also said he is trying to get similar language in this year's defense bill.

Hagel is also proposing that the military look at closing bases in 2017.