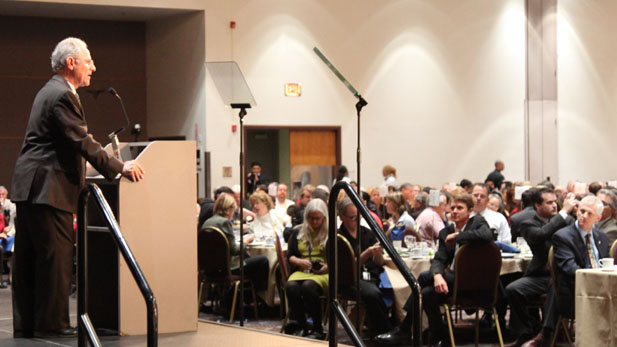 Tucson Mayor Jonathan Rothschild focuses on economic development in his 2014 'State of the City' speech. (PHOTO: Andrea Kelly, AZPM)
Listen:
Tucson Mayor Jonathan Rothschild focused on the economy in his third State of the City speech Wednesday.
Nearly every program he cited as an example of progress in his previous two years in office, and nearly every goal he outlined for 2014, were related to economic development. The topics were largely policies or practices that would attract businesses to Tucson: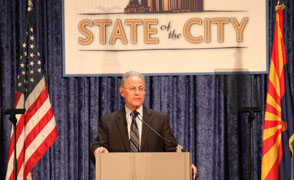 (PHOTO: Andrea Kelly, AZPM)
- Education funding: Rothschild said Arizona needs to move up from the state's position as one of the lowest per-pupil funding states in the country. He urged Tucson business leaders to push state lawmakers to increase educational funding and divert their attention from bills that Rothschild said draw negative attention to Arizona.
"Starving our public schools of needed funds is as anti-business as SB 1070, or the most recent outrage, SB 1062. These policy decisions harm business, for these reasons I'm asking the business community: lead the way. Demand that K-12 public education funding become a top priority in our state," he said.
- Military base preservation: Protecting the missions at Davis-Mothan Air Force Base, and the National Guard unit in Tucson, are critical, Rothschild said.
"I cannot be clearer than this: We will support the missions required to keep Davis-Monthan and the Air National Guard in our community. We will work to assure that Tucson remains an important part of our nation's defense strategy. We value our military's contribution to our country and to this community," he said.
- Infrastructure improvement: The city needs to work with the state and federal governments to ensure infrastructure improvements, he said. Additionally, the county should pursue a bond package that could help pay for some more local improvements, Rothschild said. Bonds are the government version of a loan, a financial advance paid back with interest over time. They are paid back through tax increases, and therefore must earn voter approval.
Read the 2014 State of Tucson address
View at Google Docs | Download File