U.S. Rep. Ed Pastor, Arizona's first Latino congressman, announced Thursday he will not seek re-election this year, vacating a seat he has held since 1991.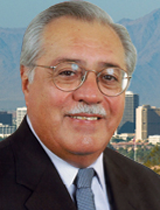 U.S. Rep. Ed Pastor, D-Ariz.
The Democratic Pastor, 71, made the disclosure on his Facebook page.
"After 23 years in Congress serving the people of Arizona, I have decided that I will not seek re-election this year," he said in the Facebook posting. "It has been a great honor and experience, but it is time for me to close this chapter of my life and start a new one. I want to thank everyone who has assisted me and supported me throughout my career. Thank you very much for all of your support."
Pastor was a three-term member of the Maricopa County Board of Supervisors in 1991 when he resigned to run for a seat in Congress in a special election held to fill the vacancy left by Morris Udall's death. Pastor was re-elected 11 times.
He represents Congressional District 7, covering the central, southern and western parts of the Phoenix metropolitan area. He won re-election in 2012 with 81.4 percent of the vote against a Libertarian challenger.
Born in the mining town of Claypool in eastern Arizona, Pastor was the first in his family to go to college. He graduated from Arizona State University in 1966 with a degree in chemistry and taught chemistry at a Phoenix high school before going into community organizing work.
Pastor went to law school at ASU, then worked in the administration of Raúl Castro, the state's only Latino governor.
In Congress, he is on the House Appropriations Committee and three subcommittees - Energy and Water Development; Transportation, Housing and Urban Development and Related Agencies; and the Subcommittee on Financial Services and General Government.
He also was appointed to the Permanent Select Committee on Intelligence in the 113th Congress and serves on the Democratic Steering and Policy Committee.