Listen:
The University of Arizona Police Department has hired long-time Cmdr. Brian Seastone as its next police chief.
Chief Anthony Daykin retired at the end of 2013, and Cmdr. Keith Brittain was the interim chief as the university conducted a national search to replace Daykin.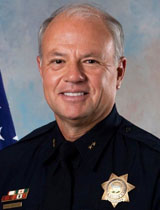 PHOTO: University of Arizona Police Department
University of Arizona Police Chief Brian Seastone.
Seastone has worked in the department since 1980, and has specialized in training other officers. The UAPD officers go through the same certification and training as all other law enforcement agencies in Arizona.
"Our primary jurisdiction is the main campus and outlying university properties, including the Mount Graham International Observatory site near Safford. However, through established agreements, we also take action as needed and provide assistance to other law enforcement agencies in the areas adjacent to our jurisdiction," according to the UAPD website.
The department is focused on crime prevention, community outreach and emergency response, according to a UAPD news release. And, the community outreach component needs to be expanded to help with the other goals, Seastone said.
"We've got a really good department, I think that some of my ideas that I'm going to be presenting to my command staff, and the department, will just take us in another direction to make us even better, more community-involved," he said.
Those goals include holding brown-bag lunch events, or having officers on the UA mall so people can walk up to them. The goal is "to get us out into the community, walking, being seen a little bit more," he said. "Instead of always patrolling the campus in cars, being out and more approachable. Doing that is a must."
UAPD should work more closely with other UA departments, he said. Those goals may require refining officers' training, he said.
Seastone wants to focus on training the ranks of officers to mentor others, he said.