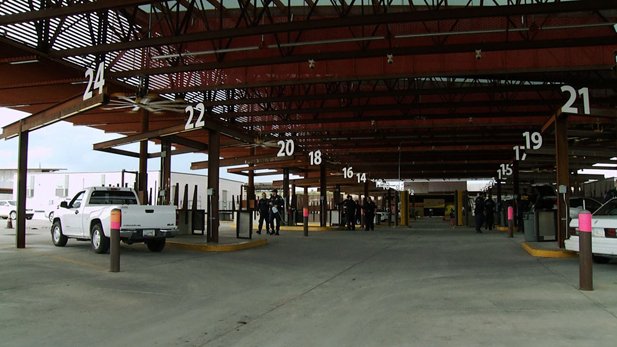 PHOTO: AZPM
Listen:
Eight of the nine U.S. representatives from Arizona sent a letter to the Department of Homeland Security asking for 500 more Customs and Border Protection officers.
"We ask that Arizona receive an adequate share of customs officers for its ports of entry, including the revamped Mariposa Port of Entry in Nogales," the letter said. "It is estimated that Arizona needs an additional 500 customs officers to effectively run its ports of entry, and that the Mariposa POE alone requires an additional 250 customs officers."
The letter was addressed to Secretary of Homeland Security Jeh Johnson, and was signed by Democratic Reps. Ron Barber, Raul Grijalva, Kyrsten Sinema, and Anne Kirkpatrick; and Republican Reps. Matt Salmon, Trent Franks, Paul Gosar and David Schweikert.
Recently, the federal government called for more than 3,300 Customs and Border Protection officers, including 2,000 for the busiest ports of entry, the members of Congress wrote in the letter.
In 2012 U.S. ports of entry along the border with Mexico processed close to 314 million people, 18,000 trains, 10.2 million trucks and 125 million cars in two-way traffic, according to the members of Congress.
"Trade indicators show these numbers to be on the rise well into the future," they wrote. "U.S. ports of entry process more than $1 billion in trade every day of the year. Unfortunately, the allocation of staffing for CBP at our ports of entry has remained stagnant since 2009."