Listen:
A professional bike race scheduled for Saturday afternoon in downtown Tucson has authorities advising motorists to plan accordingly.

The Old Pueblo Grand Prix is a criterium style race, which means professional cyclists from around the country will compete in a closed loop circuit in the city's urban core. Organizers of this year's event have had to modify the route to avoid the new streetcar tracks.

"We definitely wanted to be in downtown but we had to push ourselves a little north," said Susan Frank, director of the Old Pueblo Grand Prix.
She said past races have attracted up to 10,000 spectators to downtown, and this style of competition is meant to be spectator-friendly and attractive to businesses and sponsors.

"We wanted to be part of what is happening in downtown Tucson, with all the new businesses and all the revitalization, so it definitely coincides with that," she said. "And, actually, there's a tradition with criterium…that's actually what they are meant to do from a sort of economic standpoint."
Racing starts on the six-tenths of a mile course in front of the Pima County Courthouse, 115 N. Church Ave., and Jacome Plaza, 101 N. Stone Ave., at 3:15 p.m., continuing until about 7 p.m.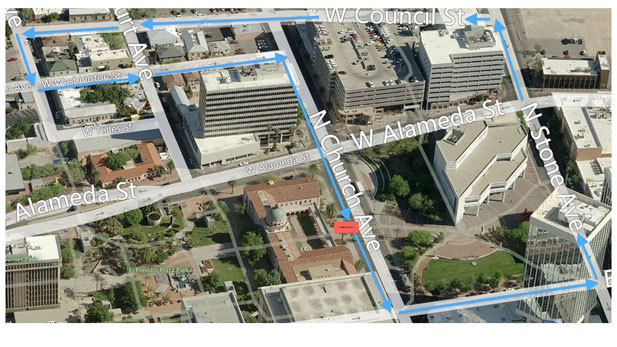 Old Pueblo Grand Prix Course Map