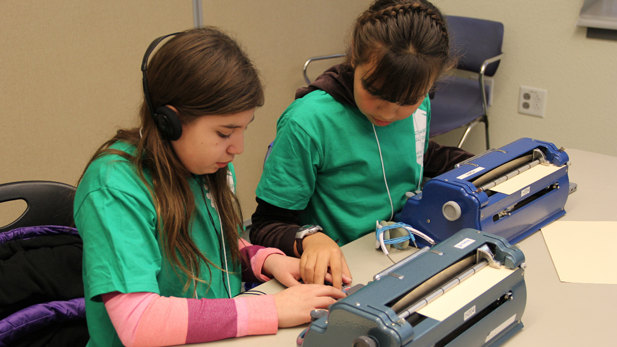 Beatrise Silva (left) and Evamaria Tanori Contreras, both 11, practice on a Victor Reader Stream device before taking the speed and accuracy portion of the Braille Challenge. (PHOTO: Kate Newton, AZPM)
Listen:
Students at the Arizona School for the Blind in Tucson competed this week in the annual Braille Challenge, the only regional event in Arizona where blind and visually impaired students can put their Braille-reading skills to the test.
If students place among the top 60 competitors in the country, they will earn a chance to attend the national competition in Los Angeles.
The competition is split into five categories, including reading comprehension, proofreading, spelling and reading tactile charts and graphs. Beatrise Silva and Evamaria Tanori Contreras, both 11, learned to read Braille in preschool and competed alongside high schoolers in the competition this year.
Beatrise said she likes reading Braille because it helps her stand out from other children her age.
"Sometimes I wonder how I really got to know it," Beatrice says. "It's so cool 'cause my brothers and sisters are like, 'How can you read it? I can't read it.'"
Beatrise and Evamaria are two of the 53 students competing in the Arizona Regional Braille Challenge this year, the biggest turnout since the event started at the Arizona School for the Blind three years ago. Almost 40 of those competitors are students at the school, while 14 came to Tucson from around the state to participate.
Administrators and teachers at the School for the Blind plan every detail of the competition and other activities to make the children, who range in age from 6 to 18, as comfortable as possible in a competitive setting. Principal Kathy Zwald said visually impaired students often miss the chance to compete at a young age, and that the Braille Challenge gives them a chance to share in the same experiences given to their sighted peers.
Diane Shifflett, a teacher and an orientation and mobility specialist at the school, said drawing out that excitement in a day of one challenging test after another is in accordance with the overall mission of the school.
"As school for the blind, we're really pro-braille, so to have this kind of exposure for Braille, the whole idea of it is to promote literacy and Braille literacy," Shifflett says.
Braille has been a form of communication for the blind and visually impaired since the early 1800s, and the medium has been forced to adapt to increased technology use and the growing trend towards auditory learning. Teacher Elizabeth Webb taught herself braille during college, and now helps elementary school children through the early stages of learning braille.
She said the rise of electronic learning styles shouldn't affect the longevity of Braille because it continues to give visually impaired students the literacy skills they need to become independent. Webb added that technology, especially Apple products, is being manufactured to include increased compatibility with Braille so that blind and visually impaired children don't have to miss out on using these popular devices.
"You can hook up a Braille display, and you can read Braille off of a computer," Webb said. "You can search the Internet, you can do email, you can do GPS, everything. …It's all accessible with Braille."
The technology used during the competition, however, is fairly basic and meant to be consistent and reliable for the children, Webb added. Students take the test on a Perkins Braille Writer, a bulky device similar to a typewriter, but also use a device known as a Victor Reader Stream to perform their speed and accuracy test.

Fourth grader Ahlyana Seaman of Heartland Ranch Elementary School in Coolidge said her favorite part of the competition is the reading comprehension category, but she also enjoys helping her classmates through the testing process.
"If they're struggling if I'm allowed to help them out, I'm pretty sure I'm not allowed to give them the answer but I can help," Ahlyana said.
While the children work their way through the competition one category at a time, parents and visitors attend seminars on Braille education throughout the day, even getting the chance to learn a little Braille themselves. Zwald said this helps adults experience firsthand what their children go through not only in the competition, but also in their daily education.
"They get a chance to understand the whole component of why it's so important for kids who are blind or severely visually impaired to use braille as their medium of choice for reading material," Zwald said.
Danna Rivera, 12, of Phoenix was the overall winner of Monday's competition, and took home her own Victor Reader Stream as the grand prize. Donna will hear back from the Braille Institute in April on whether her scores placed her in the top 60 competitors in the nation. If so, she'll earn a trip to the national Braille Challenge in June.