(VIDEO: AZPM)
For decades, Arizona has been preparing itself for water shortages.
Some argue the state has already reached a crisis, while others say it hasn't, and the latter advocate for preservation tactics so resources aren't wasted.
All 15 Arizona counties were declared drought areas Friday, The Associated Press reported. Also this week, the town of Williams west of Flagstaff issued a "level four" water alert, forcing local government to ask residents to conserve.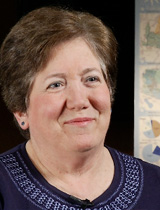 Sharon Megdal, director of the Water Resources Research Center. (PHOTO: AZPM Staff)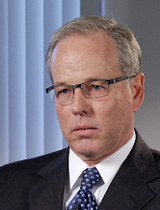 Michael Lacey, director of the Arizona Department of Water Resources in Phoenix. (PHOTO: AZPM Staff)
Despite these reports and continual pressure on the Colorado River, which could face drought as early as 2016, many argue Arizona is not in immediate danger of a water crisis, but steps must be taken to prevent one.
"Arizona is not in a crisis," said Sharon Megdal, director of the University of Arizona Water Resources Research Center, on Friday's broadcast of Arizona Week. "The good news is that we have done great planning ... communities throughout the state have clean water and available water.
"The not so good news is in the longer-term," she said. "We are a growing population, growing into our supplies. Climate factors are expected to affect the flows of the Colorado River quiet significantly, and so we have to do the planning ... we have to make the investments now so we don't get into a crisis."
Michael Lacey, director of the Arizona Department of Water Resources at Arizona State University's Global Institute of Sustainability, also said an imbalance will occur as the water supply shrinks and the population grows.
He said thanks to the Groundwater Management Act of 1980 and the establishment of the Central Arizona Project, the state has been able to preserve groundwater and store supplies from other resources, such as some of the water received from the Colorado River.
For instance, Tucson receives 140,000 acre-feet of water from the Colorado via the CAP, said Fernando Molina of Tucson Water. Of that, 40,000 is allowed to percolate into underground aquifers.
"Tucson Water has a variety of tools to manage our water systems here, probably one of the biggest is the ability to use renewable water supplies like Central Arizona Project water, but there can also be an impact through conservation methods that our customers can do," Molina said.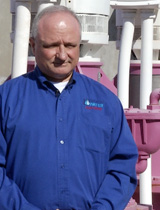 Fernando B. Molina, public information officer at Tucson Water. (PHOTO: AZPM Staff)
One of these programs is water harvesting, for which Tucson Water offers incentives, Molina added.
"Our rebate programs are doing really well...water harvesting has been very successful," he said. "I think people in our community are very interested in having a sustainable water future. We are very interested in maintaining a reliable water supply, as well as distribution system to make sure we can continue to distribute water."
The state could also rely on more investments, such as water desalination, to create a long-lasting fix. Lacey and Megdal said desalination - removing the salt from ocean water - is expensive but a viable solution.
"Desalination is being used in communities around the U.S. and around the world," Megdal said, "so its prices are coming down. But ... we are not surrounded by a sea or ocean, so we don't have the resources for water desalination. ... When we talk about that here, we are talking about...a partnership with California or Mexico."
And there is the option of desalinating Arizona's groundwater. El Paso, Texas, has done so and it is a significant source of water there, Megdal said.
Although Megdal said the state isn't in a water crisis, she reinforced caution about not depleting aquifers because "nature is not going to replace so quickly."
"Our water managers have to be up front with the public….(say) 'we don't have a water crisis we don't want to get you scared…we do great planning for economic development but we do have to plan for the future,' so a balancing act of getting people excited into action for the future (of water resources) without alarming them," she said.