Listen:
University of Arizona School of Journalism Director David Cuillier testified before the U.S. Senate Judiciary Committee Tuesday during a hearing on the state of the Freedom of Information Act.
"FOIA helps journalists reveal corruption, expose problems in society and empower citizens," Cuillier said. "FOIA makes a difference, it saves lives, but I'm here today to say that FOIA is terribly broken and it needs more than reinvigorating it needs resuscitation."
The hearing titled "Open Government and Freedom of Information: Reinvigorating the Freedom of Information Act for the Digital Age," aligns with Sunshine Week, an initiative where news media, civic groups, libraries, schools and nonprofit organizations highlight the importance of an open government.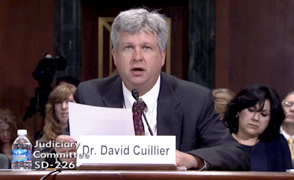 David Cuillier testifying in Washington D.C.
FOIA is a law that gives anyone the right to access information from the federal government.
On fiscal year 2012, more than 650,000 requests were filed and the backlog for those requests was 71,790, according to government data.
Cuillier - who is also the president of the Society of Professional Journalists - like others who testified, said government agencies are overusing the FOIA exemptions and the Obama administration is using exemptions to deny public records request more than the previous administration.
"It's agencies figuring out how to avoid giving out information they don't want out," Cuillier said.
The committee also heard from the U.S. Department of Justice, the National Archives and Records Administration, a professor of law from American University Washington College of Law, and the assistant director of OpenTheGovernment.org.
The hearing was "an opportunity to take stock of the progress we have made during the last decade on improving the FOIA process, and also examine the proposals to reform FOIA," said Vermont U.S. Sen. Patrick Leahy, chairman of the Judiciary Committee.
"I am concerned that the growing trend towards relying upon FOIA exemptions to withhold large swaths of government information is hindering the public's right to know," Leahy said. "That is why I have long supported adding a public interest balancing test to the FOIA statute, so that federal agencies consider the public interest in the disclosure of government information before invoking a FOIA exemption."