Gov. Jan Brewer announced Wednesday she won't seek a third term. She made the comments in a speech in Phoenix.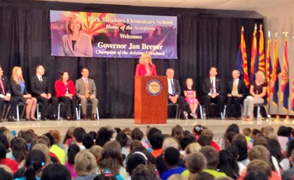 Gov. Jan Brewer announces Wednesday morning she will not run for a third term during a speech at Park Meadows Elementary School in Glendale, Ariz. (PHOTO: Gov. Jan Brewer's Twitter Account)
"Serving as governor of Arizona has been the privilege and pleasure of my life," Brewer said in her speech, according to the governor's Twitter account. "However, there does come a time to pass the torch of leadership. So, after completing this term in office, I will be doing just that."
Earlier this year, Brewer said she was considering running for another full term, although the state Constitution limits the governor to two terms.
In an interview with Arizona Public Media in January, the Republican governor said she had consulted a constitutional lawyer to weigh out her options prior to a final decision.
"Terms limits is two four-year terms is what two terms are," she said during the interview. "I've got constitutional attorneys not only here in the state of Arizona but across the country. I've got people that have encouraged me to run. I will make my decision, and I will do that sometime probably in February. When I do, I will announce either by saying that I'm not running or possibly by filing my papers for nomination."
Secretary of State Ken Bennet thanked Brewer for her service to Arizona via Twitter a few minutes after her speech.
"I appreciate the opportunity you gave me in 2009 to serve as (secretary of state)," Bennett said on Twitter.
Brewer served the last two years of Janet Napolitano's term from 2001 to 2011, when Napolitano became Secretary of Homeland Security.
Brewer was then elected to a four-year term, which began in 2011 and ends January 2015.
"While I will no longer be governor after this year, I will remain a proud cheerleader and champion for this awesome state that I love," Brewer said on Twitter. "Our work continues and our comeback story is still being written. I look forward to seeing that story continue to unfold for years to come."