Listen:
The Glendale City Council will begin negotiations with the Tohono O'odham Nation for the West Valley Resort and Casino.
The council's majority supported the move Tuesday to begin formal talks although the city is still officially in opposition of the casino.
The tribe plans to build a casino and resort just outside city limits near Glendale's sports and entertainment district.
"On behalf of the nation, I applaud the Glendale City Council for taking these important steps towards partnership, job creation and positive economic development," said Tohono O'odham Nation Chairman Ned Norris, Jr.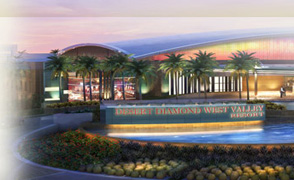 (PHOTO: West Valley Oportunity website)
For years, the city has been fighting the Tohono O'odam over whether the casino could be built, and legal bills have passed the $3 million mark.
The state argues the casino would exceed the number of casinos permitted in metro Phoenix. But the federal government has said there is no such restriction.
Arizona lawmakers are proposing legislation that would prohibit more casinos in metro Phoenix until 2027.
Councilman Ian Hugh said he opposes the bill and is "excited for the opportunity to negotiate the Tohono O'odham Nation. it's going to be great economic impact in the city and the job creation alone is going to be huge."
Former leadership in Glendale opposed the casino, Hugh said, but it is now time to rethink its economic impact.
"The construction project alone will be the largest in the state and it's going to create jobs after it's open," Hugh said.
Some members of the Glendale City Council oppose the casino and say the final decision will come in court.