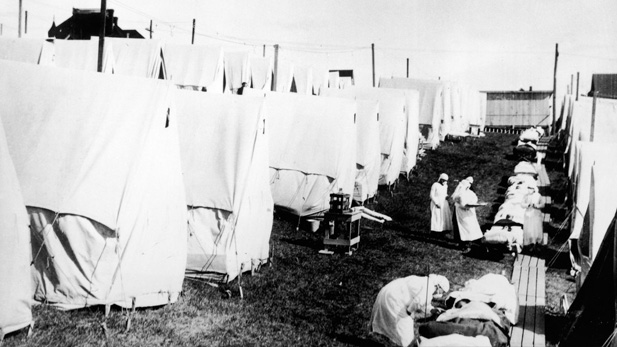 The 1918 flu known as Spanish Flu, but new research establishes that the flu originated in the Western Hemisphere. NPR

Hulton Archives/Getty Images
Coughing spells. Stuffy noses. Watery eyes.
This time of year many of our health woes can be blamed on the Palo Verde blossoms or Bermuda grass that paint our desert Fleetingly yellow and green. But according to the Pima County Health Department, some Tucsonans are still plagued by this winter's flu. And even as the current flu season tapers off, researchers are looking ahead to next winter.
Experts from the World Health Organization, Centers for Disease Control and Prevention, and other health institutes are collaborating to predict which strains of flu are most likely to spread across the globe later this year. They're mixing those strains into a vaccine that will shield some – but not all – of us from one of the most contagious viruses known to man.
One expert, however, spends his time looking back rather than ahead.
Listen:
Michael Worobey, a professor of ecology and evolutionary biology at the University of Arizona, traces the origins of infectious diseases. And his latest research has some surprises about the origins of the flu.
For many years, wild migratory birds have been considered the source of all flu viruses. But in his latest article, Worobey said that explanation was based on the flawed assumption that flu viruses evolve in different host species at the same rate.
"And it turns out that, it's kind of a subtle sounding point, but it turns out that the clocks tick at different rates in different host species," Worobey said. "So viruses that affect humans, they go at one rate. Ones that affect pigs they go at another, and birds another, and horses another and so forth."
Worobey said failure to account for these different clocks leads to spectacularly wrong results. He traces viruses using an evolutionary tree.
He and his team reanalyzed 80,000 flu virus genomes with a new set of assumptions about the pace at which viruses mutate in different species. The pace of mutation correlated to the length of branches on the evolutionary trees.
"We pretty much took every flu sequence that has ever been created over the last 20 years or so. Thousands of these things. And the genome of these viruses are in eight separate chunks," he said.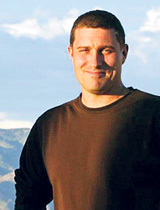 Michael Worobey (PHOTO: UA)
"So you have to make a separate family tree for each sort of chromosome of the virus. Once we have that this confusing picture that we used to have where it wasn't really tree when things jumped from one species to the next and from which species to which species, it snapped into place and there were some surprises," he added.
The first surprise? Worobey and his collaborators discovered what he calls a global sweep in the mid-19th century that replaced six of the flu's eight genomes.

"What we found was actually for most of these genes segments, the diversity of the viruses in these birds is not very old at all. It only goes back to the late 1800s. And it shares an ancestor with this horse lineage," he said. "So it looks like that either the bird virus jumped into horses at that point or maybe in the horse virus jumped into birds at that time point which is just totally not what people were expecting."
"But either way it's really fascinating because it turns out there was a huge horse flu outbreak at pretty much exactly the time that we pinpointed in our evolutionary analysis. it was called the great epizootic of 1872 and it started in Toronto," he continued. "City by city, town by town from about October of 1872 to 1873, equine influenza just laid low all of the horses and mules in every place in a time that horsepower came from horses."
The horse flu shut the economy down. And at the same time, newspapers were reporting also about a major outbreak of bird flu - called the henfluenza.
"So this really virulent form of flu that kills chickens and ducks and other animals looked like it was being found in the wake of this horse flu pandemic," he said. "So you have this connection between the analyses that suggest that for the major part of the genetic diversity of these viruses, you have a horse lineage and an avian lineage sharing an ancestor at this point."
Worobey didn't say whether the flu originated in horses or in birds. But his crucial discovery is the common genetic makeup of the two viruses.
And remember the wild migratory birds?
"This idea of wild birds as being the ancestor and reservoir of everything else? That might be wrong," he said.
Instead Worobey said that the viruses that infect us today traces their roots back to the horse flu outbreak and the henfluenza of the 1870s. And that they were actually found in domestic birds like chickens.
"If you look at everything that circulates now, including stuff that's in wild ducks in north America or south America. The genes in those look like they actually came from the domestic outbreak of 100 years ago," he said. "Which again, is the opposite of what everyone had thought. Everyone had thought this was a wild virus and it moves from the wild into humans and our animals."
"What we're seeing is maybe our domesticated animals like ducks and chickens, they might be this huge pool of vulnerable hosts that viruses can get into and amplify and then you can have spillover from domestic into the wild."
Experts say Worobey's findings have important implications for the spread of the flu today - particularly given the close confines that animals are kept in industrial farm operations.
Turning his sights to the future, Worobey said more pandemics are inevitable.
"Typically every few decades – sometimes shorter, sometimes longer, you'll have one of these pandemics, which happen when completely new to human genes jump from another species – genes against which no on has immunity – so when they do get in there they're able to race around the world and infect a lot of people before immunity builds up," he said.
"That's an ongoing process and that's not going to stop. Predicting when the next one is going to happen – that's tricky. But my feeling is that we will probably not experience something like 1918 again when you you had in places like Philadelphia stories of the bodies being stacked up like cordwood."
What does Worobey do to protect himself? He gets his flu shots - every year.