"Bulls can range anywhere from 1200 pounds to 2000 pounds ... but, they have personalities just like we do, some of them are mean and ornery and others would just assume have you scratch 'em as hook you," said professional bull rider Steve Woolsey.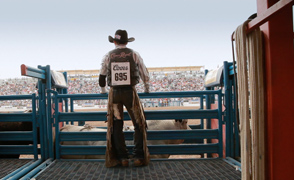 PHOTO: Mitchell Riley
Steve Woolsey waits to ride Pit Bull in the Sunday short round.
Woolsey, who rides for the Crown Royal Riders, said he loves what he does for a living and wouldn't have it any other way.
"I was just kind of raised into it," he said. "The first time I got on a big bull was...in Enterprise, Utah, that was a big adrenaline rush, I rode him. I'd never been on anything that big, but I was hooked."
The 28-year-old grew up on a farm in Benjamin, Utah. His father Lars, and older brother, Lee, both rode bulls. His mother Dana was a barrel racer.
Woolsey said he's grateful for the western way of life that led him down this path.
"When we were younger my dad had about 20 to 30 head of brood mares and raised mule colts and horse colts," Woolsey said. He and his brothers enjoyed life on the farm. "We were running around raising hell, riding horses, running through the fields and just having fun," he said.
Woolsey had early success as a bull rider. In 2010, he was the CBR Las Vegas Champion and qualified for the CBR World Championship in 2008, 2009 and 2010.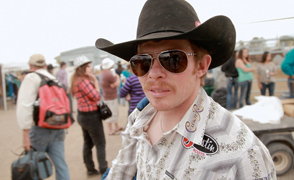 PHOTO: Mitchell Riley
Professional Bull Rider, Steve Woolsey leaving the Tucson Rodeo grounds.
"The first year as a professional, I ended up second in the world and then had a bad injury in 2006 that kind of messed up my equilibrium. I kind of struggled from then on and haven't had as much success as I would like to," Woolsey said. "I'm trying to get back on top on my game right now."
Woolsey, who rode in the 2014 La Fiesta de Los Vaqueros, will ride in nearly 120 rodeos this year.
"The reason why I keep doing it is because it's what I love to do and it gives me a lot of freedom in life...it would almost be like I was quitting myself if I didn't keep riding," he said.
And there is one last thing he'd like to do before hanging up his spurs.
"The only thing I haven't accomplished, that I really want to do in my career, is win the world championship and get the gold buckle."